Maple Syrup Workshop
---
Event Details
Date
October 3, 2022
Time
5pm - 8pm
Location
Cornell Cooperative Extension Steuben
20 East Morris Street
Bath, NY 14810
Host
Cornell University Maple Specialist

Aaron Wightman
email Aaron Wightman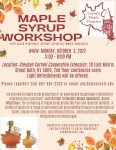 Are you new to maple syrup production or an experienced sugarmaker interested in improving your operation? Join Cornell University Maple Specialist, Aaron Wightman, for an evening of maple syrup production tips and research updates. A variety of topics for a range of skill levels will be presented through a combination of slides, hands-on exercises, and demonstrations. Active participation and discussions are encouraged.
Questions regarding workshop content can be directed to Aaron Wightman, arw6@cornell.edu
To register call 607-664-2300 or email amz65@cornell.edu


Upcoming Events
Economic Feasibility Case Study of Co-Digestion of Manure and Food Waste on a Northern New York Dairy Farm
December 1, 2022
Are you interested in exploring whether a manure and food waste co-digestion enterprise might be feasible at your dairy? This webinar will present the economic feasibility of two scenarios of anaerobic co-digestion on a case dairy farm located in Northern New York.