Sorry. Online registration has closed.
Beef Quality Assurance (BQA) Training at Town Line Livestock in Perrysburg, NY
---
Event Details
Date
October 15, 2022
Time
9am - 2pm
Location
Perrysburg Volunteer Fire Co / Town Line Livestock
Perrysburg, NY
Cost
Program Registration : Free
This Program is free to all participants
Program Registration with Lunch and Refreshments : $15.00
(addl attendee $15.00 ea.)
Lunch and refreshments are optional - you are welcome to bring your own
Host
Southwest New York Dairy, Livestock and Field Crops Program
Amy Barkley
716-640-0844
email Amy Barkley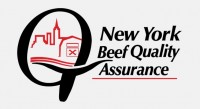 Beef Quality Assurance Training
Saturday, October 15th
Level I training: 9am - 11am - Level II training: 9am - 2pm
Perrysburg Volunteer Fire Co / Town Line Livestock, Perrysburg, NY
This training is for:
· New cattle producers
· Seasoned cattle producers
· Cattle producers looking to become BQA certified
· Cattle producers looking to renew their BQA certification
You will learn:
· History and benefits of BQA training
· Stress reduction and management through low impact handling
· Herd health management and biosecurity
· Identification and recordkeeping
· Transportation considerations
· Introduction to VCPRs, veterinary drugs, and veterinary equipment
· Chute-side manner and how to properly give injections
This training will be for level I and level II BQA certification. If you are taking the training to recertify, you will only need to take the classroom training. If you want to become level II certified, you'll need to be present for both the classroom and chute-side training.
Cost to participate: Training is free
Lunch and refreshments are either "pack your own" or provided by the program for $15/person.
Please register by Wednesday, October 12th by contacting Amy Barkley at (716) 640-0844 or amb544@cornell.edu


Upcoming Events
Farm Asset Protection Strategies: Safeguarding Agricultural Legacies for Future Generations
November 14, 2023
November 17, 2023
November 20 - November 21, 2023November 29 - December 1, 2023
Join us for a workshop on farm asset protection to help you preserve long-standing agricultural legacies. In these uncertain times, safeguarding valuable farm assets has become paramount to ensure our farming communities' continued success and sustainability. Each participant will receive written materials and a flash drive containing various resources. Morning refreshments and lunch are included.
Value-Added Dairy Tour
March 13 - March 14, 2024
Pre-register now for our March 2024 Value-Added Dairy Tour!
Announcements
Help Us Help You - SWNYDLFC Needs Assessment
As we look ahead to the new year, we would like to survey the community and learn more about the topics you're most interested in hearing from us about.
TAKE SHORT SURVEY