Irrigation Pasture Walk - Birds All Dairy
---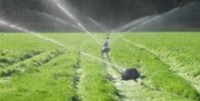 Irrigation Pasture Walk - Birds All Dairy
Wednesday, August 17, 2022, 12:00 PM - 3:00 PM
PROTECTING PASTURES FROM DROUGHT
Fay Benson - Cornell Cooperative Extension of Cortland County
I've had plenty of opportunity in my work to watch other graziers as well as graze my own animals. One conclusion I've come up with is: "Anyone can graze in a wet year; it takes a good grazier to graze in a dry year". Drought disrupts grazing operations more than confinement operations since confinement operations plan to have stored feed for their animals so when drought weather hits they have time to react and make alternative plans. It doesn't affect the livestock. As pasture soil dries, grass growth slows, graziers try to keep their rotation going hoping for rain. When it doesn't come they have to change to stored feed which can have a negative effect on livestock production.
An Ounce of Prevention (Click here to read full article)
If you are interested in learning more about Kim's irrigation system, there will be a pasture walk at their farm on August 17th at noon. The farm is located at 3642 Old Worden Rd, Canaseraga NY 14882. Bring a dish to pass or $5 for lunch.
A van will be leaving Cortland at 9:30 AM. If you'd like to ride with us contact Fay Benson, info below
Registrations are preferred. Contact Lynn Bliven at lao3@cornell.edu ph- 585-268-7644 x18 or Fay Benson at afb3@cornell.edu or 607-391-2669


Upcoming Events
Is Grazing Sheep Beneath Solar Arrays and Opportunity for Your Future?
September 25, 2023
Mt. Morris, NY
Grazing sheep beneath utility-scale solar arrays can build wealth of present and future sheep farmers as vegetation management service providers and access to additional pasture. The Cornell Cooperative Enterprise Program (CEP) conducted a survey earlier this year completed by over 600 farmers. Farmers identified barriers to grazing sheep under solar arrays and weighed in on need for a producer-led organization to negotiate contracts on their behalf, coordinate logistics of multiple flocks, provide transport of sheep to and from the site, care for sheep while on-site, and provide supplemental mowing. Additional questions focused on processing and marketing needs.
Technology for Grazing Dairies Webinar
September 27, 2023
Join us for this free webinar! Brought to you by the dairy specialists of CCE NWNY and SWNY Dairy, Livestock and Field Crops Programs.
Protecting Against Murphy's Law: A FREE Live Seminar for Veterans.
October 4, 2023
What Can Go Wrong, Will Go Wrong!
Good ole' Murphy's Law is probably the best description of what it's like to be a farmer that there is! Join Cornell Cooperative Extension Farm Business Management Specialist, Katelyn Walley-Stoll, to learn more about the 5 areas of risk on farms and how to develop strategies to manage those risks. Participants will have the opportunity to identify areas of risk on their own farms and brainstorm ways to (try to) prevent the inevitable!
Registration is REQUIRED by visiting https://tinyurl.com/CCERisk or call Kelly at 585-268-7644.
Announcements
No announcements at this time.