Young Farmers Coalition of WNY Ice Cream Social
---
Event Details
Date
July 19, 2022
Time
6:30pm - 8:00pm
Location
Healing Poem Farm
4598 RT 78
Java, NY
Host
Southwest New York Dairy, Livestock and Field Crops Program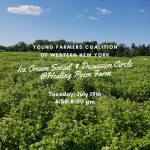 YOUNG FARMERS COALITION OF WESTERN NEW YORK
Ice cream social and discussion circle
@ Healing Poem Farm
Tuesday, July 19th, 6:30pm - 8:00pm
Please rsvp to yfc_wny@gmail.com
What's the scoop on starting a farm? It's well documented that young and beginning farmers face many barriers to starting farms, including access to farmland, capital, training, and health care. Join us at Healing Poem Farm for ice cream (or an ice pop) and an interactive conversation among aspiring, new-entry, and seasoned farmers as we dish on this topic together.
The Young Farmers Coalition works to transform agriculture in service to our communities and stewardship of our natural resources, requiring farmers of all ages! Supporting a new generation of working farms will require leadership and engagement by all generations of farmers. We welcome farmers of all ages who share this vision to join our new chapter.


Upcoming Events
Farm Asset Protection Strategies: Safeguarding Agricultural Legacies for Future Generations
November 14, 2023
November 17, 2023
November 20 - November 21, 2023November 29 - December 1, 2023
Join us for a workshop on farm asset protection to help you preserve long-standing agricultural legacies. In these uncertain times, safeguarding valuable farm assets has become paramount to ensure our farming communities' continued success and sustainability. Each participant will receive written materials and a flash drive containing various resources. Morning refreshments and lunch are included.
Value-Added Dairy Tour
March 13 - March 14, 2024
Pre-register now for our March 2024 Value-Added Dairy Tour!
Announcements
Help Us Help You - SWNYDLFC Needs Assessment
As we look ahead to the new year, we would like to survey the community and learn more about the topics you're most interested in hearing from us about.
TAKE SHORT SURVEY