Baby Mama Drama (Goat Reproduction and Kidding)
---
Event Details
Date
June 29, 2022
Time
6pm - 7:30pm
Location
Online via Zoom

Host
Southwest New York Dairy, Livestock and Field Crops Program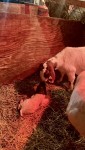 Baby Mama Drama - Goat Reproduction and Kidding
A FREE Live Seminar for Veterans Provided by Cornell Cooperative Extension and Cornell Small Farms Program Farm Ops
By Katelyn Walley-Stoll, Farm Business Management Specialist with the SWNY Dairy, Livestock, and Field Crops Program
SOUTHWEST, NEW YORK (June 16th, 2022) - Are you ready for your goats to give birth? NY & NJ Veterans are invited to join Cornell Cooperative Extension Specialists, Amy Barkley and Katelyn Walley-Stoll, to learn more about parasite management and pasture health in a FREE virtual seminar. This will take place on Wednesday, June 29thh, 2022 from 6pm - 7:30pm via Zoom. Registration is required by visiting tinyurl.com/BabyGoat22.
When thinking about growing your goat herd, birth will be one of the most exciting and challenging aspects of your farmstead. This interactive workshop will discuss many of the key aspects to birth on the farm including gestation lengths and reproductive cycles, signs of labor, creating the ideal kidding environment, baby care, mama care, and what to look for as you try to prevent issues that can sometimes arise.This interactive session will include videos, discussion, and lots of resources! The presentation will be recorded and distributed to registrants.
For any questions, concerns, or accommodation requests, please contact Katelyn Walley-Stoll at kaw249@cornell.edu or 716-640-0522. Funding and support for this event is provided by Cornell Small Farms Veteran Program, Farm Ops. Learn more about Farm Ops by visiting https://smallfarms.cornell.edu/projects/farm-ops/.
SWNYDLFC is a partnership between Cornell University and the CCE Associations of Allegany, Cattaraugus, Chautauqua, Erie, and Steuben counties. Their team includes Katelyn Walley-Stoll, Farm Business Management (716-640-0522); Camila Lage, Dairy Management (607-422-6788); and Amy Barkley, Livestock Management (716-640-0844). CCE is an employer and educator recognized for valuing AA/EEO, Protected Veterans, and Individuals with Disabilities and provides equal program and employment opportunities.



Upcoming Events
2022 Soil Health & Climate Resiliency Field Days
July 13, 2022
July 20, 2022
July 25, 2022
July 28, 2022
August 2, 2022
August 4, 2022
August 9, 2022
August 25, 2022
August 31, 2022

Join the New York Soil Health team and partner organizations at a soil health field day! The statewide event series will take place May-August 2022.
More details and registration will be available soon.
Finger Lakes Fiber Festival
September 17 - September 18, 2022
Hemlock, NY
Join us for shopping, classes, lectures, and demonstrations!
Beef x Dairy Workshop - Postponed to Winter time!
April 27, 2022
November 23, 2022

Announcements
No announcements at this time.