Robotic Milking System Farm Tour
---
Event Details
Date
July 12, 2022
Time
11:00am - 1:00 pm
Location
Frontier Brook Farm
5777 Route 83
Conewango Valley, NY 14726
Cost
Free Registration : Free
Host
Southwest New York Dairy, Livestock and Field Crops Program
Camila Lage
607-422-6788
email Camila Lage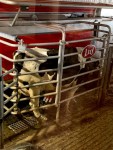 Robotic Milking System Farm Tour
This program is applicable to any dairy farmers who are interested in learning more about robotic milking systems. Frontier Brook Farm currently milks 200 cows with 4 Lely robots. Come tour the farm, talk about managing cows under robotic system, enjoy lunch, socialize with other farms, and learn from each other.
Agenda:
11:00 am - 12:00pm— Tour Frontier Brook Farm
12:00pm - 1:00pm—Lunch
Facilitators:
Camila Lage, Dairy Specialist, CCE Southwest NY Dairy, Livestock, and Field Crops Team
Lisa Kempisty, Ag Educator, CCE Chautauqua
Lindsay Ferlito, Dairy Specialist, CCE North Country Regional Ag Team
Casey Havekes, Dairy Specialist, CCE North Country
Lunch will be provided. This program is FREE thanks to the generous sponsorship of Finger Lakes Dairy Service - Whitney Davis
Registration: This program is free, but pre-registration is preferred. Register by following the link, calling or emailing Camila Lage (cd546@cornell.edu or 607-422-6788)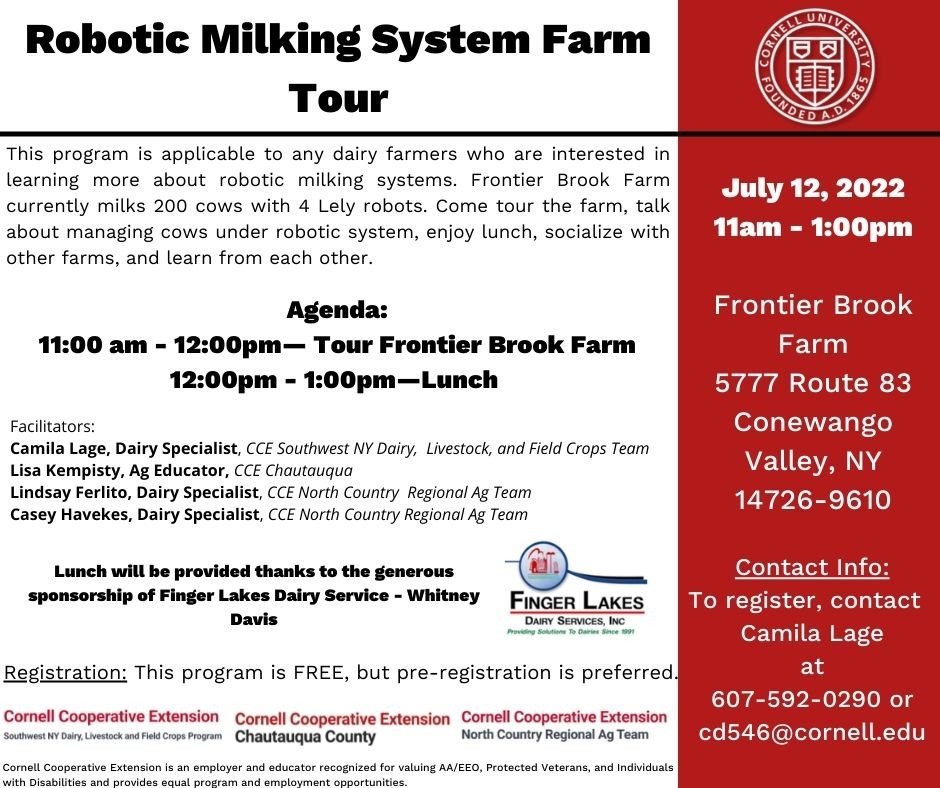 Upcoming Events
2022 Soil Health & Climate Resiliency Field Days
July 13, 2022
July 20, 2022
July 25, 2022
July 28, 2022
August 2, 2022
August 4, 2022
August 9, 2022
August 25, 2022
August 31, 2022

Join the New York Soil Health team and partner organizations at a soil health field day! The statewide event series will take place May-August 2022.
More details and registration will be available soon.
Finger Lakes Fiber Festival
September 17 - September 18, 2022
Hemlock, NY
Join us for shopping, classes, lectures, and demonstrations!
Beef x Dairy Workshop - Postponed to Winter time!
April 27, 2022
November 23, 2022

Announcements
No announcements at this time.