New York Beef Producers Association - Region 4 Annual Meeting
---
Event Details
Date
March 19, 2022
Time
1pm
Location
Belfast Fire Hall
9 Merton Ave
Belfast, NY 14711
Host
New York Beef Producers Association
lao3@cornell.edu

Barb Benjamin
585-610-6536
email Barb Benjamin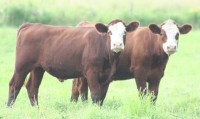 After lunch we will have a short business meeting for Region 4 followed by our guest speakers:
Want to get a "good price" for your beef? Start with knowing YOUR costs first! - Katelyn Walley-Stoll, Team Leader with CCE's Southwest New York Dairy Livestock and Field Crops Program (a partnership between Cornell University and the five CCE Associations of Allegany, Cattaraugus, Chautauqua, Erie, and Steuben Counties). A walk through the importance and the how-to's of calculating costs of production for your operation - and why this matters in today's farm economy! Whether you're contract based, direct-to-consumer, or sending animals to the auction, this financial analysis process and tool doesn't have to be confusing and can be put to work for you.
Beef Quality Assurance - Why Now? - Lynn Bliven, Ag & Natural Resources Issue Leader, Cornell Cooperative Extension Allegany County. BQA does more than just help beef and dairy producers capture more value from their cattle: BQA also reflects a positive public image and instills consumer confidence in the beef industry. When producers implement the best management practices of a BQA program, they assure their market steers, heifers, cows, and bulls are the best they can be. And today, the stakes are even higher because of increased public attention on animal welfare and environmental impacts from animal agriculture.
This program will serve as a BQA Recertification workshop. If you are Level 2 BQA Certified you will
need to provide an updated Veterinarian Client/Patient Relationship (VCPR) form, if needed please request a form when you pre-register.
The cost of the program:
$15 per person for adults
$5 for youth 10 and under.
Buffet lunch with choice of Beef on Weck or Pulled BBQ Chicken Sandwich, sides and beverages.
Pre-reservations for the meeting requested by March 12th to assist with lunch planning.
Please contact Barb Benjamin, NYBPA Region 4 Chair at 585-610-6536 or lightenliz62@yahoo.com or Lynn Bliven at lao3@cornell.edu.
Payment will be accepted at the door. We will have door prizes and 50/50 raffles.
Membership in the beef producer association is not required to attend. New memberships and renewals will be accepted at the meeting, drawing will be held for 1 free membership or renewal.
NYBPA is a member driven organization, there will be an opportunity at this meeting to discuss and plan future events to be held in the region while networking with other beef producers
Cohosted by Cornell Cooperative Extension Allegany County


Upcoming Events
Farm Asset Protection Strategies: Safeguarding Agricultural Legacies for Future Generations
November 14, 2023
November 17, 2023
November 20 - November 21, 2023November 29 - December 1, 2023
Join us for a workshop on farm asset protection to help you preserve long-standing agricultural legacies. In these uncertain times, safeguarding valuable farm assets has become paramount to ensure our farming communities' continued success and sustainability. Each participant will receive written materials and a flash drive containing various resources. Morning refreshments and lunch are included.
Value-Added Dairy Tour
March 13 - March 14, 2024
Pre-register now for our March 2024 Value-Added Dairy Tour!
Announcements
Help Us Help You - SWNYDLFC Needs Assessment
As we look ahead to the new year, we would like to survey the community and learn more about the topics you're most interested in hearing from us about.
TAKE SHORT SURVEY