New York Beef Producers Association - Region 4 Annual Meeting
---
Event Details
Date
March 19, 2022
Time
1pm
Location
Belfast Fire Hall
9 Merton Ave
Belfast, NY 14711
Host
New York Beef Producers Association
lao3@cornell.edu

Barb Benjamin
585-610-6536
email Barb Benjamin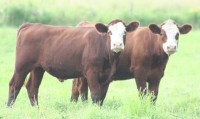 After lunch we will have a short business meeting for Region 4 followed by our guest speakers:
Want to get a "good price" for your beef? Start with knowing YOUR costs first! - Katelyn Walley-Stoll, Team Leader with CCE's Southwest New York Dairy Livestock and Field Crops Program (a partnership between Cornell University and the five CCE Associations of Allegany, Cattaraugus, Chautauqua, Erie, and Steuben Counties). A walk through the importance and the how-to's of calculating costs of production for your operation - and why this matters in today's farm economy! Whether you're contract based, direct-to-consumer, or sending animals to the auction, this financial analysis process and tool doesn't have to be confusing and can be put to work for you.
Beef Quality Assurance - Why Now? - Lynn Bliven, Ag & Natural Resources Issue Leader, Cornell Cooperative Extension Allegany County. BQA does more than just help beef and dairy producers capture more value from their cattle: BQA also reflects a positive public image and instills consumer confidence in the beef industry. When producers implement the best management practices of a BQA program, they assure their market steers, heifers, cows, and bulls are the best they can be. And today, the stakes are even higher because of increased public attention on animal welfare and environmental impacts from animal agriculture.
This program will serve as a BQA Recertification workshop. If you are Level 2 BQA Certified you will
need to provide an updated Veterinarian Client/Patient Relationship (VCPR) form, if needed please request a form when you pre-register.
The cost of the program:
$15 per person for adults
$5 for youth 10 and under.
Buffet lunch with choice of Beef on Weck or Pulled BBQ Chicken Sandwich, sides and beverages.
Pre-reservations for the meeting requested by March 12th to assist with lunch planning.
Please contact Barb Benjamin, NYBPA Region 4 Chair at 585-610-6536 or lightenliz62@yahoo.com or Lynn Bliven at lao3@cornell.edu.
Payment will be accepted at the door. We will have door prizes and 50/50 raffles.
Membership in the beef producer association is not required to attend. New memberships and renewals will be accepted at the meeting, drawing will be held for 1 free membership or renewal.
NYBPA is a member driven organization, there will be an opportunity at this meeting to discuss and plan future events to be held in the region while networking with other beef producers
Cohosted by Cornell Cooperative Extension Allegany County


Upcoming Events
Organic Farmer-to-Farmer Meetings
April 4, 2023
: NYCO Field Crop Meeting


Geneva, NY

NYCO's field crops meeting has been rescheduled to April 4th, 2023 from 9 am - 1 pm. This meeting is free for all farmers to attend and participants are encouraged to bring a dish to pass for lunch.
How to Value Your Business, Planning for the Future
April 4, 2023
April 11, 2023
April 18, 2023

This three-week workshop series for livestock-based businesses will be held online. It is specifically targeted at existing meat, fiber, small ruminant dairy, or other livestock value-added processing businesses. A team of Cornell Cooperative Extension Educators will provide tools to assess your existing business and to assist in understanding options for business expansion or transfer. The workshop series will also be of benefit to livestock value-added business startups and is of relevance to both owners and employees in management positions.
Business Planning for Beginning Farmers
April 10, 2023
Jamestown, NY
Business plans for farms are often viewed as yet another chore to do and usually result in dusty binders taking up space on the office shelf. This discussion based workshop will walk you through the mental exercise of planning your future agricultural adventures. Participants will leave with a better understanding of the use of a business plan, the essential components, and a "to-do" list of things to think about to inform future planning efforts. Additional opportunities for one-on-one follow up will also be offered. FSA Borrower credits may be made available for your attendance. This workshop will be taught by Katelyn Walley-Stoll, Team Leader and Farm Business Management Specialist from the Southwest New York Dairy, Livestock, and Field Crops Program with Cornell Cooperative Extension. She is a graduate of Cornell University with a degree in Animal Science and Ag Business Management, and owns and operates a diversified livestock farm.
$5 per person REGISTER