The Business of Making Hay
---
Event Details
Date
February 7, 2022
Time
6:30pm - 8:30pm
Location
Online viz Zoom

Host
Cornell Cooperative Extension of Broome County

Laura Biasillo
email Laura Biasillo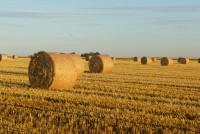 The Business of Making Hay Monday Feb 7th 6:30-8:30pm Zoom
Join Janice Degni of the South Central NY Dairy & Field Crops Team, and Nicole Tommell of the Central NY Dairy, Livestock & Field Crops Team, for a virtual, interactive presentation, and discussion on the business of making hay. We'll explore the art and science of making quality hay. We'll focus on good fertility practices for growing nutrient dense hay for dairy cows, beef cattle or horses. Participants will hear the recommendations for crop varieties and rotations. we'll dive into the business side. Attendees will learn how to put together a budget for growing and harvesting hay, as well as how to use this information to set competitive, and profitable pricing. Learn about the option for custom harvest. The cost for this webinar is $10/farm. Pre-registration is required and the zoom link will be sent upon receipt of payment. Any questions can be directed to Laura Biasillo at lw257@cornell.edu.
Register here: https://pub.cce.cornell.edu/ev...


Upcoming Events
Organic Farmer-to-Farmer Meetings
April 4, 2023
: NYCO Field Crop Meeting


Geneva, NY

NYCO's field crops meeting has been rescheduled to April 4th, 2023 from 9 am - 1 pm. This meeting is free for all farmers to attend and participants are encouraged to bring a dish to pass for lunch.
How to Value Your Business, Planning for the Future
April 4, 2023
April 11, 2023
April 18, 2023

This three-week workshop series for livestock-based businesses will be held online. It is specifically targeted at existing meat, fiber, small ruminant dairy, or other livestock value-added processing businesses. A team of Cornell Cooperative Extension Educators will provide tools to assess your existing business and to assist in understanding options for business expansion or transfer. The workshop series will also be of benefit to livestock value-added business startups and is of relevance to both owners and employees in management positions.
Business Planning for Beginning Farmers
April 10, 2023
Jamestown, NY
Business plans for farms are often viewed as yet another chore to do and usually result in dusty binders taking up space on the office shelf. This discussion based workshop will walk you through the mental exercise of planning your future agricultural adventures. Participants will leave with a better understanding of the use of a business plan, the essential components, and a "to-do" list of things to think about to inform future planning efforts. Additional opportunities for one-on-one follow up will also be offered. FSA Borrower credits may be made available for your attendance. This workshop will be taught by Katelyn Walley-Stoll, Team Leader and Farm Business Management Specialist from the Southwest New York Dairy, Livestock, and Field Crops Program with Cornell Cooperative Extension. She is a graduate of Cornell University with a degree in Animal Science and Ag Business Management, and owns and operates a diversified livestock farm.
$5 per person REGISTER