Sorry, Pre-Registration for has passed.
POSTPONED DUE TO RAIN - Pasture Walk at Heaven Scent Farm
---
Event Details
Date
October 29, 2021
Time
1pm - 3pm
Location
Heaven Scent Jerseys
4735 Turnpike Road
Bath, NY 14810
Host
Southwest New York Dairy, Livestock and Field Crops Program
Amy Barkley
716-640-0844
email Amy Barkley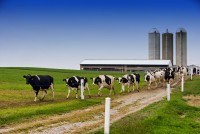 Pasture Walk at Heaven Scent Farm
Friday, October 29th, 1pm - 3pm
4735 Turnpike Road, Bath, NY 14810
Join Fay Benson, former dairyman and current Cornell Small Dairy Support Specialist; Katelyn Walley-Stoll, Farm Business Management Specialist; and Amy Barkley, Livestock and Beginning Farm Specialist, as they walk with the Stewart Family around their pastured dairy operation to learn about pasture compaction, late fall pasture management, transitioning from pasture to winter feeds, pasture economics, and winter cattle welfare considerations.
Jerry Stewart, his wife Amy, and their two children operate their small dairy farm in Bath NY. They have 30 Jerseys in their milking herd, which are seasonally grazed. For over 13 years, Jerry has been working through his mineral company, Balanced Biological Solutions LLC, to help other farmers build their soils and become more profitable. Jerry also heads the sales and marketing division at Sweet Acres Creamery.
Light refreshments will be provided. We plan to be standing or walking for most of the time, so please bring a folding a chair if you'd like one.
This event is free of charge, but your pre-registration will help us get accurate numbers for hand-outs and refreshments.
Register online at https://tinyurl.com/HeavenScentPasture or by contacting Amy Barkley at 716-640-0844 or amb544@cornell.edu.
We have another pasture walk earlier in the month in Erie County, hosted by Kramer Farms, LLC.
11093 Holland Glenwood Road, Holland NY 14080
Date: Monday, October 25th
Time: 12pm - 1pm
You can register for this separate event here: https://swnydlfc.cce.cornell.e...


Upcoming Events
Onboarding Webinar Series for Farm Employers
January 21, 2022
February 4, 2022
February 18, 2022

Cornell Agricultural Workforce Development is offering an Onboarding Webinar Series via Zoom that target farm employers and the educators and consultants who support them. Registration is free, but required. Series #1 is 12/8, 12/22 and 1/5 from 11am-12pm. Series #2 is 1/21, 2/4 and 2/18 from 11am-12pm. The same content will be offered at both series.
NOFA-NY's 2022 Winter Conference
January 18 - January 23, 2022
Growing in Harmony
NOFA-NY's Annual Winter Conference is one of the largest organic food and farming conferences in the nation - gathering hundreds each year to meet old friends, learn new skills, provide support, and celebrate community.
Grazing Sheep on Solar Arrays
January 24, 2022
This online Zoom class will look at the logistics and business of grazing solar arrays with sheep. Shepherds can get paid to graze solar arrays for the purpose of keeping the foliage below the level of the panels. Good grazing principles still apply and there are things to consider like fencing, water, moving animals and the timing of lambing. Join us to learn more about it from experienced grazers, Lewis Fox and Niko Kochendoerfer of Taconic End Sheep, LLC. Lewis and Niko own 400 Katahdin ewes in VT and operate Taconic End Sheep LLC. The flock grazes solar sites in the Northeast between May and October and moves back to VT for the Winter and lambing season.
FREE event
REGISTER
Announcements
Register for "Tax Management for Beginning and Small Farm Businesses"
Preregistration is back up and running for next week's CCE Farmer Tax School course: Tax Management for Beginning and Small Farm Businesses - Register now for this informative, $10 workshop!
Register Here!