Sorry, Pre-Registration for has passed.
POSTPONED DUE TO RAIN - Pasture Walk at Heaven Scent Farm
---
Event Details
Date
October 29, 2021
Time
1pm - 3pm
Location
Heaven Scent Jerseys
4735 Turnpike Road
Bath, NY 14810
Host
Southwest New York Dairy, Livestock and Field Crops Program
Amy Barkley
716-640-0844
email Amy Barkley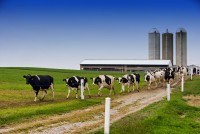 Pasture Walk at Heaven Scent Farm
Friday, October 29th, 1pm - 3pm
4735 Turnpike Road, Bath, NY 14810
Join Fay Benson, former dairyman and current Cornell Small Dairy Support Specialist; Katelyn Walley-Stoll, Farm Business Management Specialist; and Amy Barkley, Livestock and Beginning Farm Specialist, as they walk with the Stewart Family around their pastured dairy operation to learn about pasture compaction, late fall pasture management, transitioning from pasture to winter feeds, pasture economics, and winter cattle welfare considerations.
Jerry Stewart, his wife Amy, and their two children operate their small dairy farm in Bath NY. They have 30 Jerseys in their milking herd, which are seasonally grazed. For over 13 years, Jerry has been working through his mineral company, Balanced Biological Solutions LLC, to help other farmers build their soils and become more profitable. Jerry also heads the sales and marketing division at Sweet Acres Creamery.
Light refreshments will be provided. We plan to be standing or walking for most of the time, so please bring a folding a chair if you'd like one.
This event is free of charge, but your pre-registration will help us get accurate numbers for hand-outs and refreshments.
Register online at https://tinyurl.com/HeavenScentPasture or by contacting Amy Barkley at 716-640-0844 or amb544@cornell.edu.
We have another pasture walk earlier in the month in Erie County, hosted by Kramer Farms, LLC.
11093 Holland Glenwood Road, Holland NY 14080
Date: Monday, October 25th
Time: 12pm - 1pm
You can register for this separate event here: https://swnydlfc.cce.cornell.e...


Upcoming Events
Transition Cow Tuesdays Webinar Series
November 2, 2021
November 9, 2021
November 16, 2021
November 23, 2021
November 30, 2021
December 7, 2021
December 14, 2021

Have you…
been working with the farm transition cow program but want to know more about the how, what and why?
wanted to improve the transition cow performance of your herd but need to know where to start?
wanted to increase the skills you bring to the farm or your farm employer?
been wondering where you'll find the time to attend a course or workshop?
Agricultural Supervisory Leadership Certificate Program - Managing Performance
November 16, 2021
November 23, 2021
November 30, 2021
December 7, 2021
December 14, 2021
December 21, 2021

Online course to help people lead and retain employees
African Swine Fever - What Does it Mean for You?
December 1, 2021
Join us for a virtual discussion on the status of and risks facing New York pig farms from African Swine Fever (ASF). Eireann Collins, DVM, NYS Department of Agriculture and Markets will be covering the symptoms of ASF and what would happen if the disease reached the US. This will be a short presentation with ample time for questions and answers.
Register
This educational meeting is supported by NYS Department of Agriculture and Markets, Cornell Cooperative Extension Livestock Program Work Team and New York Pork Producers Cooperative.
Announcements
No announcements at this time.