Hoard's Dairyman Webinars
---
Event Details
Date
October 11, 2021
November 8, 2021
December 13, 2021
January 10, 2022
February 14, 2022

Time
1pm-2pm
Location
Webinar

Host
Hoard's Dairyman

920-563-5551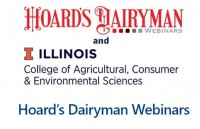 The award-winning Hoard's Dairyman webinar series takes place the second Monday of each month at 1:00 p.m., EST. Hosted by the energetic Mike Hutjens of the University of Illinois, each short, one-hour webinar will include nationally-known and carefully selected presenters who will discuss the most relevant topics and challenges faced by dairy producers across the country. During the presentation, webinar participants will have the opportunity to ask questions of the presenter and engage in thought-provoking discussions. If unable to attend a webinar, they will be recorded and can be accessed later at http://www.hoards.com/webinars. Our webinars are approved for continuing education units (CEU) from the American Registry of Professional Animal Scientists. Each hour-long webinar will earn one CEU. Archives are available back to 2011.
Just one hour. That's all you need to take part in the Hoard's Dairyman monthly webinar series and you won't even have to leave your office.


Upcoming Events
Transition Cow Tuesdays Webinar Series
November 2, 2021
November 9, 2021
November 16, 2021
November 23, 2021
November 30, 2021
December 7, 2021
December 14, 2021

Have you…
been working with the farm transition cow program but want to know more about the how, what and why?
wanted to improve the transition cow performance of your herd but need to know where to start?
wanted to increase the skills you bring to the farm or your farm employer?
been wondering where you'll find the time to attend a course or workshop?
Agricultural Supervisory Leadership Certificate Program - Managing Performance
November 16, 2021
November 23, 2021
November 30, 2021
December 7, 2021
December 14, 2021
December 21, 2021

Online course to help people lead and retain employees
African Swine Fever - What Does it Mean for You?
December 1, 2021
Join us for a virtual discussion on the status of and risks facing New York pig farms from African Swine Fever (ASF). Eireann Collins, DVM, NYS Department of Agriculture and Markets will be covering the symptoms of ASF and what would happen if the disease reached the US. This will be a short presentation with ample time for questions and answers.
Register
This educational meeting is supported by NYS Department of Agriculture and Markets, Cornell Cooperative Extension Livestock Program Work Team and New York Pork Producers Cooperative.
Announcements
No announcements at this time.