Healthy, Hardy Heifers! Virtual Series Fall 2021
---
Event Details
Date
October 1, 2021
October 8, 2021
October 15, 2021
October 22, 2021
October 29, 2021
November 5, 2021
November 12, 2021
November 19, 2021

Time
Fridays from 12pm-12:45pm
Location
Zoom

Host
South Central New York Dairy & Field Crops

Betsy J Hicks
607-391-2673
email Betsy J Hicks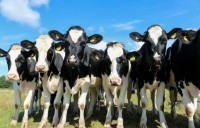 CCE Regional Ag Teams are excited to offer this NEW heifer series! Join us VIRTUALLY for an 8-week series on heifer management topics from post-weaning to calving! This series will be offered virtually via Zoom every Friday starting October 1st, 2021, at 12:00 pm EST. Sessions will be ~30 - 45 minutes in length, with a question & answer period at the end.
Fridays at 12:00-12:45 pm EST
October 1 —Series Kick-Off Murilo Carvhalo, Holstein Canada
October 8—Transition After Weaning,CCE NCRAT Dairy Specialists
October 15 — Pre-Breeding Comfort and Nutrition, CCE NCRAT and SCNY Dairy Specialists
October 22—Hoof Health, Dr. Dorte Doepfer, UW Madison
October 29 —Repro Strategies, Dr. Julio Giordano, Cornell
November 5—Bred Heifers, Dr. Tom Tylutki, AMTS
November 12—Pre-calving Nutrition, Dr. Mike van Amburgh, Cornell
November 19—Pre-calving Comfort and Facilities, Dr. Katy Proudfoot, UPEI
This program is offered at NO COST thanks to our generous sponsors!
For registration help/questions, please contact: Donette Griffith, dg576@cornell.edu / 607-391-2662
Sessions offered online (via Zoom) at 12:00 pm EST* Zoom link arrives in your registration confirmation email.


Upcoming Events
Transition Cow Tuesdays Webinar Series
November 2, 2021
November 9, 2021
November 16, 2021
November 23, 2021
November 30, 2021
December 7, 2021
December 14, 2021

Have you…
been working with the farm transition cow program but want to know more about the how, what and why?
wanted to improve the transition cow performance of your herd but need to know where to start?
wanted to increase the skills you bring to the farm or your farm employer?
been wondering where you'll find the time to attend a course or workshop?
Agricultural Supervisory Leadership Certificate Program - Managing Performance
November 16, 2021
November 23, 2021
November 30, 2021
December 7, 2021
December 14, 2021
December 21, 2021

Online course to help people lead and retain employees
African Swine Fever - What Does it Mean for You?
December 1, 2021
Join us for a virtual discussion on the status of and risks facing New York pig farms from African Swine Fever (ASF). Eireann Collins, DVM, NYS Department of Agriculture and Markets will be covering the symptoms of ASF and what would happen if the disease reached the US. This will be a short presentation with ample time for questions and answers.
Register
This educational meeting is supported by NYS Department of Agriculture and Markets, Cornell Cooperative Extension Livestock Program Work Team and New York Pork Producers Cooperative.
Announcements
No announcements at this time.