Swine Breeding Stock Care - Nutrition
August 13, 2020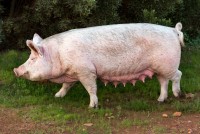 Swine Breeding Stock Care - Nutrition

On Thursday August 13th from 12:15 p.m. to 1:00 p.m., UVM Center for Sustainable Agriculture with host a webinar in partnership with Penn State Extension and UNH Extension: Swine Breeding Stock Care - Nutrition with Dr. Elizabeth Hines of Penn State.
For the breeding herd, nutrition is all about longevity. In this webinar, we will review basic dietary recommendations for boars and sows, and how to make the most of feedstuffs available to you.
This webinar is one in a five-part series in collaboration with UNH Cooperative Extension, Penn State Cooperative Extension, and UVM Extension. The material presented in these sessions is intended for swine producers interested in starting their own breeding program or improving their existing program.
Register for this webinar here: https://www.eventbrite.com/e/swine-breeding-stock-care-nutrition-tickets-110277414716?j=544024&sfmc_sub=22182594&l=159_HTML&u=11093670&mid=7234940&jb=1&utm_medium=email&utm_source=MarketingCloud&utm_campaign=LVSTK_2020_JULY_PP_EM_SWINEREPROSERIES&utm_content=LVSTK_2020_JULY_PP_EM_SWINEREPROSERIES&subscriberkey=003d000002jDy4GAAS
Other webinars in this series include:

Sow Selection - What makes a good sow? July 16th, 12:15 pm - 1:00 pm
Boar Selection - What makes a good boar? July 23rd, 12:15 pm - 1:00 pm
Servicing sows, Live Cover vs Artificial Insemination; July 30th, 12:15 pm - 1:00 pm
Swine Breeding Stock Care: Housing; August 6th, 12:15 pm - 1:00 pm
**Registration for each individual event is necessary to participate.
The Swine Reproduction Series: presentations are intended for swine producers interested in improving their breeding program or starting new.
All events will be have live captioning available and will be recorded. If you require a disability-related accommodation in order to take part, please contact Colene Reed, colene.reed@uvm.edu, by July 23 so we may assist you.