Event Details
Date
February 25, 2020
Time
9:30am - 1:30pm
Location
CCE-Cattaraugus
28 Parkside Drive
Ellicottville, NY 14731
Cost
$20.00
(additional attendee $20.00 ea.)
Pay by card online, cash or check accepted at the door day of.


Host
Southwest New York Dairy, Livestock & Field Crops Program
Pre-Registration Deadline: February 21, 2020

EVENT HAS PASSED
2020 Winter Update - Cattaraugus County
February 25, 2020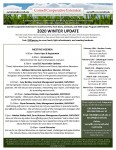 Cornell Cooperative Extension's Southwest New York Dairy, Livestock, and Field Crops Program

2020 WINTER UPDATE

Meet the newly formed team consisting of four specialists working in the areas of Farm Business Management, Field Crops, Dairy, and Livestock as they present timely and helpful information for your farm business!

Cost: $20/person to cover lunch, light refreshments, and meeting handouts.
Please register at least 4 days prior to your preferred location's event. Pay with a card by registering online.
Call: Kelly Bourne at 585-268-7644 ext. 10
Email: klb288@cornell.edu or kaw249@cornell.edu
Online: swnydlfc.cce.cornell.edu/events.php


MEETING AGENDA

9:30am - Doors Open & Registration

9:40am - Introductions
Welcome from the team and program overview.

9:50am - Local CCE Association Updates
Timely information from Executive Directors and County Agriculture Educators.

10am - Kathleen McCormick, Agriculture Educator, CCE-Erie
Farmland for a New Generation New York supports a network of Regional Navigators that provides training and on-the-ground customized support for farmers and landowners in regions across NY.

10:15am - Amy Barkley, Livestock Management Specialist, SWNYDLFC
Soil Sampling for Pasture Management is a way to optimize the quality of your pastures. We will discuss best practices, interpreting your report, and helpful tips for amending pasture soils.

10:45am - Joshua Putman, Field Crops Specialist, SWNYDLFC
2020 Pest Update - What pests should you be looking out for this season and how could they potentially impact your field crop and forage production?

11:30am - Alycia Drwencke, Dairy Management Specialist, SWNYDLFC
Optimizing calf care is an important part of your operation to promote healthy and efficient production. We will discuss some of the management strategies that support optimal calf care on farm.

12pm - Katelyn Walley-Stoll, Farm Business Management Specialist, SWNYDLFC
How are the new Ag Labor laws affecting your farm business? Learn about tools and resources to help you manage these new regulations along with information about financial analysis for your dairy or livestock farm.

12:45pm - Lunch Discussion
Join us for an informal discussion on regional needs, challenges and opportunities the industry faces, and programming ideas for Cooperative Extension.

The SWNY Dairy, Livestock & Fields Crops Program offers educational programming and research based information to agricultural producers, growers, and agribusinesses. Cornell Cooperative Extension is an employer and education recognized for valuing AA/EEO, Protected Veterans, and Individual with Disabilities and provides equal program and employment opportunities. For accommodations, please contact Katelyn Walley-Stoll, 716-640-0522 or kaw249@cornell.edu.

Meeting Dates and Locations:

February 18th - Steuben County
Bovine Supply Plus
7508 Loon Lake Road
Hornell, NY 14843

February 25th - Cattaraugus County
28 Parkside Drive
Ellicottville, NY 14731

March 3rd - Allegany County
5435A County Road 48
Belmont, NY 14813

March 10th - Erie County
Roycroft Campus - Dard Hunter Hall
21 South Grove Street
East Aurora, NY 14052

March 31st - Chautauqua County
Carnahan Center @ JCC
241 James Avenue
Jamestown, NY 14702
Program Information (PDF; 1402KB)
Upcoming Events
**CANCELLED/POSTPONED**2020 Agronomy Scout School

April 4, 2020
8:00am - 5:30pm
Geneseo, NY
EVENT CANCELLED/POSTPONED:
Due to Cornell University and Governor's announcement that all SUNY campuses go to remote learning to mitigate the spread of COVID-19, locally. It has been decided to cancel the 2020 Agronomy Scout School that was set to be held on Saturday, April 4th. We plan to reschedule this event for a later date, pending further knowledge of the COVID-19 mitigation regulations both in the state and nationwide. Refunds will be made to everyone who paid thus far.
Thank you for your understanding.
Sincerely, the NWNY & SWNY Field Crops Team.
g in soybeans, alfalfa, corn and small grains.
Announcements
Follow us on Facebook!
Stay up-to-date with our program by
liking our page.
Dairy Market Watch Released - March 2020
Dairy Producers - Read
this month's commentary
from Katelyn Walley-Stoll on the Dairy Market Response to COVID-19 and Early Spring Flush. Dairy Market Watch is an educational newsletter to keep producers informed of changing market factors affecting the dairy industry.
NY FarmNet Continues to Offer Free Services - Call 1-800-547-3276
NY FarmNet
is continuing to support our agricultural producers through free and confidential consultations. While they are following health and government officials and limiting face-to-face meetings, their consultants are still able to work with farmers and agri-service via phone, email, and webinar. Their hotline will be answered 24 hours a day, seven days a week, by a live person. NY FarmNet remains committed to providing technical assistance in farm business management and personal wellbeing to New York's farm community. Their toll-free, confidential hotline number is 1-800-547-3276.
COVID-19 Resources Available Online
Richard Stup
, PhD,
Cornell Agricultural Workforce Development
, and
Rob Lynch
, DVM,
Cornell CALS PRO-DAIRY
hosted a webinar recently discussing
COVID-19 and Your Dairy
, which is now available online. You can watch the
webinar
, and download a
PDF of their slide show
. You can find other useful resources on the Agricultural Workforce Development
Website
. These include,
Ag & Markets Interim Guidance for Animal Care Operations
, information on
H-2A Visas, Embassy Closures, and Travel Restrictions
, and more.
Other useful materials can be found at:
General Questions & Links:
https://eden.cce.cornell.edu/
Food Production, Processing & Safety Questions:
https://instituteforfoodsafety.cornell.edu/coronavirus-covid-19/

Employment & Agricultural Workforce Questions:
http://agworkforce.cals.cornell.edu/
Cornell Small Farms Resiliency Resources:
https://smallfarms.cornell.edu/resources/farm-resilience/

Financial & Mental Health Resources for Farmers:
https://www.nyfarmnet.org/
Still looking for DEC recertification credits? Here is an opportunity for you!
The Southwest NY Dairy, Livestock, and Field Crops Team recognize that there are many people seeking recertification credits. If you still need applicator credits, there are online courses available at:
http://pmepcourses.cce.cornell.edu/
. Please note that there is a charge that is dependent on the number of credits assigned to each course. To view the course, you may select the state 'New York' for approved courses OR you can scroll down until you see the section marked 'Current Courses'. The course name, credits, and categories are all listed. Once you select the topic of interest, you will need to login or create an account in which you will be able to revisit again. We are excited that these are available due to the cancelation of recent meetings. If there are any questions, please contact Josh Putman at jap473@cornell.edu or at 716-490-5572 or click
here
Statewide herbicide resistance screening to start in 2020: Help us help you!
Beginning in 2020, a screening effort to describe the distribution of herbicide resistance in the state will begin. This coming summer and fall, growers, crop consultants and allied industry personnel who suspect they have herbicide resistance are encouraged to contact SWNY Field Crops Specialist Josh Putman (jap473@cornell.edu, 716-490-5572) to arrange for weed seed collection. Please visit
http://blogs.cornell.edu/whatscroppingup/2020/03/23/statewide-herbicide-resistance-screening-to-start-in-2020-help-us-to-help-you/
to find out more. Please share as we are interested to update our database and inform growers of the current resistance situation. For more information, please
visit
this page!
Online Quality Assurance Trainings for Beef, Sheep, and Pork Are Available!
While in-person certification classes may be postponed for the time being, opportunities to take online certification trainings in sheep, beef, and pork quality assurance are available! The trainings can be accessed by the links, below:

Sheep Safety and Quality Assurance: https://sheepusa.org/researcheducation-onlineeducation-ssqa

Beef Quality Assurance: https://www.bqa.org/bqa-certification/online-bqa-certification

Pork Quality Assurance: Please contact Ashley McFarland (am2876@cornell.edu) directly so that she can set up an online certification for you or your farm.
If you have any questions, don't hesitate to reach out to our Livestock Specialist,
Amy Barkley
, at amb544@cornell.edu or (716) 640-0844.