Creating a Dairy Farm Operating Plan
Alycia Drwencke, Dairy Management Specialist
Southwest New York Dairy, Livestock and Field Crops Program
April 23, 2020
Creating a Dairy Farm Operating Plan
Written by Paul Mitchell, ASHLEY A OLSON, Carl Duley, RYAN A STERRY and JEROME R CLARK at the University of Wisconsin-Madison
Given all the uncertainty this year with the corona virus pandemic and COVID-19, it is more important than usual to have a clear and easily available farm operating plan. If COVID-19 strikes your family, you may be incapacitated or distracted and unable to complete critical farm operations, especially spring planting. The farm operating plan identifies people who are familiar with the farm to take over operations if you are unable to farm for a while and provides clarity on what needs to be done. Family, friends, and neighbors will also likely step up to help, but they will need to know what to do. That is the purpose of the farm operating plan - to help those who will want to help you when you need it. It will be one less thing to worry about during difficult times. If you need to help someone else, it will make it easier for you if they have a farm operating plan as a guide.
An example template is provided to help create a farm operating plan for a dairy farm. Make a few copies of your final plan and be sure they are easy to find. Share them with your back up operators so they can make sure your cows are milked and given proper care.
Be sure to have the name and address of the farm(s) located on the protocol so the worker(s) knows where to tell the business to show up if they are unfamiliar. Also have instructions if vendors and helpers should or should not visit the house, barn, etc. without contacting first.
OWNER & FARM(s) Name:__________________________________________________________
PHONE NUMBER:_________________________________________________________________
FARM(s) ADDRESS:________________________________________________________________
_________________________________________________________________
_________________________________________________________________
It is important to have phone numbers of businesses and people that your dairy utilizes for everyday questions or in the event of an emergency. Below are examples of businesses and people that are recommended to have their contact information: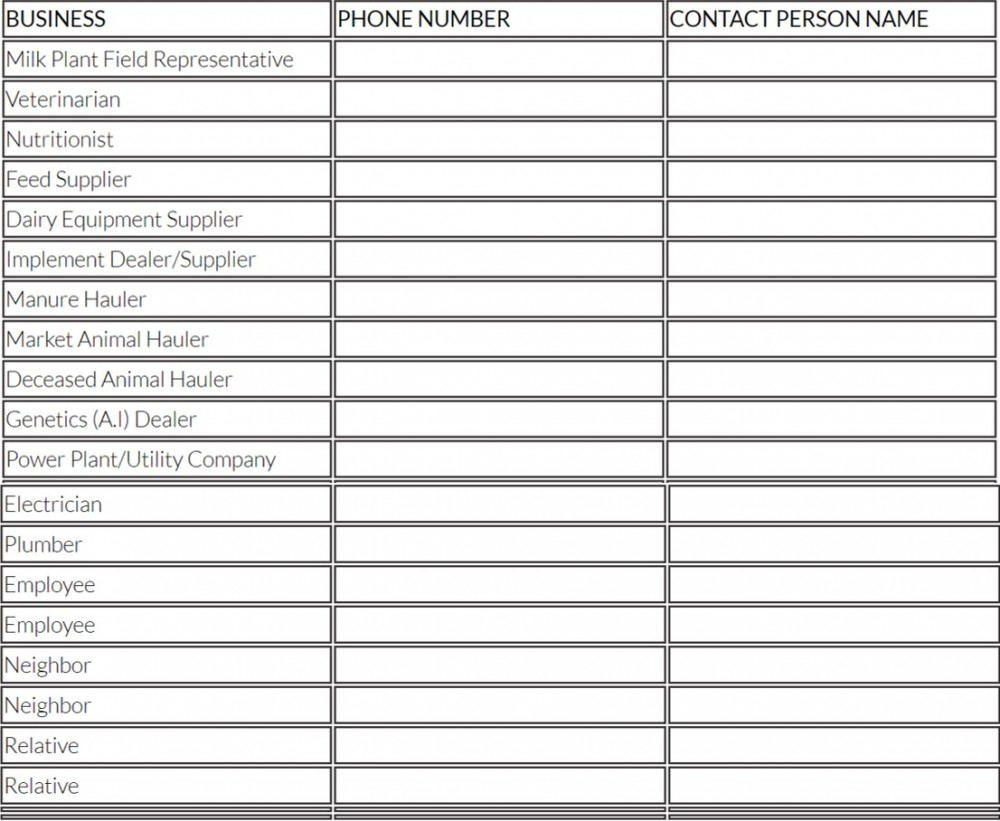 If your dairy operation has other businesses that they utilize on a frequent basis make sure to add to this template.
Besides having the farm address and important phone numbers readily available for those who may be filling in during an illness, it is also a good idea to have written protocols in place for each aspect of your dairy. Here is a recommended list of protocols to have developed:
Milkhouse and parlor set up/takedown
A chart to in the milkhouse to identify proper milk cooling temperatures
A list of cleaning agents and when/where to use them in the milkhouse/parlor
Calf feeding and care
Treatment protocol for common diseases
Management of diseased or injured cattle
Culling and transport
Feed mixing for Dairy Cows and Heifers
Manure Hauling
Euthanasia
When writing a protocol for each aspect of your dairy operation think of the steps you go through when performing that task. Write each step down and then go back and make sure that it is understandable to a person that has never completed the task before. You may also reach out to your local agriculture extension agent or educator for help.
With the exception of milking protocols, plans for livestock farms will most likely look very similar. Livestock operations may want to provide further details on pen and pasture locations, and update periodically for seasonal tasks (birthing, weaning, anticipated marketing dates for finishing stock, etc.).
Upcoming Events
Is Grazing Sheep Beneath Solar Arrays and Opportunity for Your Future?
September 25, 2023
Mt. Morris, NY
Grazing sheep beneath utility-scale solar arrays can build wealth of present and future sheep farmers as vegetation management service providers and access to additional pasture. The Cornell Cooperative Enterprise Program (CEP) conducted a survey earlier this year completed by over 600 farmers. Farmers identified barriers to grazing sheep under solar arrays and weighed in on need for a producer-led organization to negotiate contracts on their behalf, coordinate logistics of multiple flocks, provide transport of sheep to and from the site, care for sheep while on-site, and provide supplemental mowing. Additional questions focused on processing and marketing needs.
Technology for Grazing Dairies Webinar
September 27, 2023
Join us for this free webinar! Brought to you by the dairy specialists of CCE NWNY and SWNY Dairy, Livestock and Field Crops Programs.
Protecting Against Murphy's Law: A FREE Live Seminar for Veterans.
October 4, 2023
What Can Go Wrong, Will Go Wrong!
Good ole' Murphy's Law is probably the best description of what it's like to be a farmer that there is! Join Cornell Cooperative Extension Farm Business Management Specialist, Katelyn Walley-Stoll, to learn more about the 5 areas of risk on farms and how to develop strategies to manage those risks. Participants will have the opportunity to identify areas of risk on their own farms and brainstorm ways to (try to) prevent the inevitable!
Registration is REQUIRED by visiting https://tinyurl.com/CCERisk or call Kelly at 585-268-7644.
Announcements
No announcements at this time.