Using Adjuvants in Your Pesticide Program
Katelyn Miller, Field Crops and Forage Specialist
Southwest New York Dairy, Livestock and Field Crops Program
April 10, 2023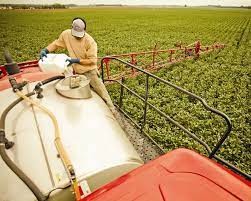 An adjuvant is a substance added to a pesticide or spray mixture with a specific function. Different functions include improving mixing, application, and pesticide performance. Formulations can be customized for specific needs and local conditions, making it important to understand their characteristics. As planting season approaches, it's a great time to review how adjuvants can improve pesticide efficacy. Let's start by reviewing the various types of adjuvants you can use in a pesticide mix.
Surfactants help spread pesticide spray droplets evenly. They are also referred to as wetting agents or spreaders because they create a wet leaf surface by decreasing water surface tension. Be careful not to use too much surfactant, as it can cause excessive runoff and reduce pest control.

Stickers increase the adhesion of solid particles to a target surface. They can help reduce evaporation and the amount of pesticide that washes off during rain. Many adjuvants are formulated as spreader-stickers which help spread the pesticide over the leaf surface and adhere to it.
Extenders keep pesticides on the target surface which slows down evaporation and prevents the sun from breaking it down.
Plant Penetrants enhances the penetration of some pesticides into plants.
Compatibility Agents are commonly used to help products mix. They help to reduce clumping, fix uneven distribution, and help to reduce the plugging up of the pump.
Buffers and Acidifiers acidify and stabilize the water in the spray tank. Most pesticide mixes are stable between a pH of 5.5 to 7.0, so the goal is to keep it within this target for the best efficacy.
Drift Control Additives improve placement target by increasing average droplet size.
Thickeners slow the evaporation of pesticides by increasing the thickness (viscosity) of the mix.
Defoaming Agents work to reduce foam created by some pesticide formulation agitation.
Foaming Agents can be added to a spray mix to do the opposite of defoaming agents. Certain formulations work better with foam as it can help reduce spray drift. Usually, foaming agents are used in difficult to reach areas like septic pipes, under stoops, or for termite control.
Now that we've reviewed the types of adjuvants, it's time to take into account some important considerations for selecting one. Keep in mind some of the considerations below with the goals of your farm's pesticide program.
A single adjuvant can't do everything. Compatible adjuvants can often can be combined to perform multiple functions at the same time.
Know when and when not to use an adjuvant. Some formulations already use an adjuvant, so double check before adding one to the mix.
ALWAYS read the label. The "Directions for Use" section will provide mixing instructions, and if any adjuvants are recommended.
Look for recommendations, suggestions or implied use like the examples shown below.
Make sure your adjuvant of choice has been thoroughly tested and marked for pesticide use. If you are unsure of its efficacy, test the product on a small area first.
"spray coverage should be uniform and complete"
"thorough spray coverage is important"
"spray mix combinations must be compatible"
"coverage should be maximized"
There are many options for using adjuvants, so always read the label for instructions and learn which ones can help suite your current pesticide program. If you want more information on adjuvants, refer to the DEC CORE Book, which you can purchase here https://www.cornellstore.com/books/cornell-cooperative-ext-pmep-manuals?page=1. You can also visit https://extension.psu.edu/spray-adjuvants.
Upcoming Events
Is Grazing Sheep Beneath Solar Arrays and Opportunity for Your Future?
September 25, 2023
Mt. Morris, NY
Grazing sheep beneath utility-scale solar arrays can build wealth of present and future sheep farmers as vegetation management service providers and access to additional pasture. The Cornell Cooperative Enterprise Program (CEP) conducted a survey earlier this year completed by over 600 farmers. Farmers identified barriers to grazing sheep under solar arrays and weighed in on need for a producer-led organization to negotiate contracts on their behalf, coordinate logistics of multiple flocks, provide transport of sheep to and from the site, care for sheep while on-site, and provide supplemental mowing. Additional questions focused on processing and marketing needs.
Technology for Grazing Dairies Webinar
September 27, 2023
Join us for this free webinar! Brought to you by the dairy specialists of CCE NWNY and SWNY Dairy, Livestock and Field Crops Programs.
Protecting Against Murphy's Law: A FREE Live Seminar for Veterans.
October 4, 2023
What Can Go Wrong, Will Go Wrong!
Good ole' Murphy's Law is probably the best description of what it's like to be a farmer that there is! Join Cornell Cooperative Extension Farm Business Management Specialist, Katelyn Walley-Stoll, to learn more about the 5 areas of risk on farms and how to develop strategies to manage those risks. Participants will have the opportunity to identify areas of risk on their own farms and brainstorm ways to (try to) prevent the inevitable!
Registration is REQUIRED by visiting https://tinyurl.com/CCERisk or call Kelly at 585-268-7644.
Announcements
No announcements at this time.