It might Not be that chill even for your non-lactating cows
Camila Lage, Dairy Management Specialist
Southwest New York Dairy, Livestock and Field Crops Program
July 18, 2022
The recent heat wave across the country got me thinking about the intensity of heat stress Northeast dairy cows face during summer. Being from Brazil and spending my last summer in Central Valley, California (HOT!), I would think that NY summers wouldn't be so bad on cows, but that's not true. There's a cost-benefit of investing in heat abatement, even in our "moderate climate" area.
Like us, cows have a temperature and humidity in which they are comfortable, called the thermal neutral zone. The combination of temperature and humidity better shows the environmental effects than each factor individually. For example, we can have a hot day (90 F) that's not humid (0% humidity), and it will feel the same as a moderate day (75 F) with 65% humidity. Looking at Figure 1 below, you can see the THI, or Temperature-Humidit Index is 72 in both of those examples. As I write this article, the temperature outside is 81 F, and the humidity is 65%, which gives us a THI of 76. Research shows that cows start experiencing heat stress when THI is around 68. So, a day with temperatures in the low 70's, and humidity of 65% or greater, will cause cows to drop in production and experience discomfort.

Source: https://dairy.extension.wisc.edu/articles/animal-handling-during-heat-stress/
Data from St-Pierre et al. (2003) estimated that cows in NY would undergo heat stress in at least 8.2% of the year. Even this small amount translates into economic losses of $23.193 million per year because of reduced intake and lying time, fertility, or loss of pregnancy and increased health issues (including lameness).
A study by Miner Institute in 2016, conducted in Northwest NY, found that cows producing more than 77 lbs per day lose at least 5 lbs milk/day when the average THI was 68 or higher for more than 17 hours a day. They also demonstrated that this loss was lower when aggressive heat abatement (meaning fans and sprinklers over stalls and feed alley) was used. As the global temperature rises, cows will spend longer periods under heat stress, making implementing intensive cooling strategies critical.
It's not just about lactating cows. A series of studies by the University of Florida demonstrated that when dry cows are heat stressed, their welfare and productivity declines, as well as the survival rates, lifespan, and performance of their daughters and granddaughters! The team calculated that these impairments would cost $595 million annually to dairy producers in the United States. In NY, which has an average of 52 heat-stressing days, it would still cost $30.81 million annually. Considering the costs of investing in heat reduction and the losses due to heat stress for dry cows and subsequent generations, Ferreira et al. (2016) concluded that investing in heat abatement for dry cows would still be a cost-effective strategy. Heat abatement strategies are becoming increasingly important for all animal categories (let's not forget about calf and heifers).
As temperature and humidity rises, let's not forget about the basic principles to help animals stay cool and comfortable:
Make sure animals have access to fresh water.
Provide shade (to all animals, and if you have grazing animals, make sure to read this).
Make sure you have enough ventilation (pens and holding pens).
Don't forget to clean fans for better performance.
Consider adopting water cooling (sprinklers/misters) for more effective cooling.
If you are interested in this topic and want to learn more, you can access our webinar on heat stress presented by Alycia Drwencke and Margaret Quaassdorff by clicking here. You can also contact Camila Lage at 6555 or cd546@cornell.edu if you want information or to help troubleshoot facilities.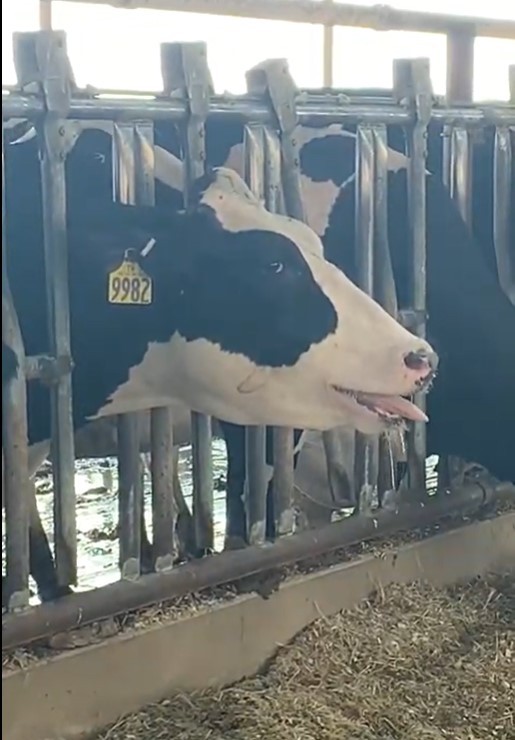 Figure 1. This cow is experiencing severe heat stress breathing with her mouth open and panting with her neck extended.
Upcoming Events
Farm Asset Protection Strategies: Safeguarding Agricultural Legacies for Future Generations
November 14, 2023
November 17, 2023
November 20 - November 21, 2023November 29 - December 1, 2023
Join us for a workshop on farm asset protection to help you preserve long-standing agricultural legacies. In these uncertain times, safeguarding valuable farm assets has become paramount to ensure our farming communities' continued success and sustainability. Each participant will receive written materials and a flash drive containing various resources. Morning refreshments and lunch are included.
Value-Added Dairy Tour
March 13 - March 14, 2024
Pre-register now for our March 2024 Value-Added Dairy Tour!
Announcements
Help Us Help You - SWNYDLFC Needs Assessment
As we look ahead to the new year, we would like to survey the community and learn more about the topics you're most interested in hearing from us about.
TAKE SHORT SURVEY