Spotted Lanternfly has Been Found in SWNY- Report Them to Help Slow the Outbreak
Amy Barkley, Livestock Specialist
Southwest New York Dairy, Livestock and Field Crops Program
July 12, 2022
Spotted Lanternfly, an invasive pest that has a huge appetite for grape vines, fruit trees, maple trees, and other plants, has been sighted in WNY. While there have been two sightings, one in Buffalo (Erie County) last year and one most recently in West Seneca (Erie County), the spot of good news is that these insects were isolated sightings, and only adults have been found. Furthermore, the West Seneca spotting was a skeletonized adult, meaning that it had been there since last year. It is thought that both insects were transported into the region via inanimate objects (cars, building materials), due to the isolation of the insects and the fact that they were adults.
Based on how quickly the bug has spread since its introduction in 2014, and because SWNY is relatively close to outbreak regions in NY and PA, we know that at some point, it will make its way into our region. However, we may be able to delay the spread until we have the tools developed that can decrease the huge agronomic losses it causes. While the two cases that were identified in SWNY were deemed isolated, it is not guaranteed that the next sighting will be. We all need to be vigilant to help identify where this pest is moving.
If you think that you've found a Spotted Lanternfly in any life stage, take a photograph, which will allow the NYS Department of Ag and Markets to confirm an ID. Next, kill the insect (by freezing is best if you can manage it), and bring it to someone who will ID it and report it to Ag and Markets. Your local CCE office can help with this.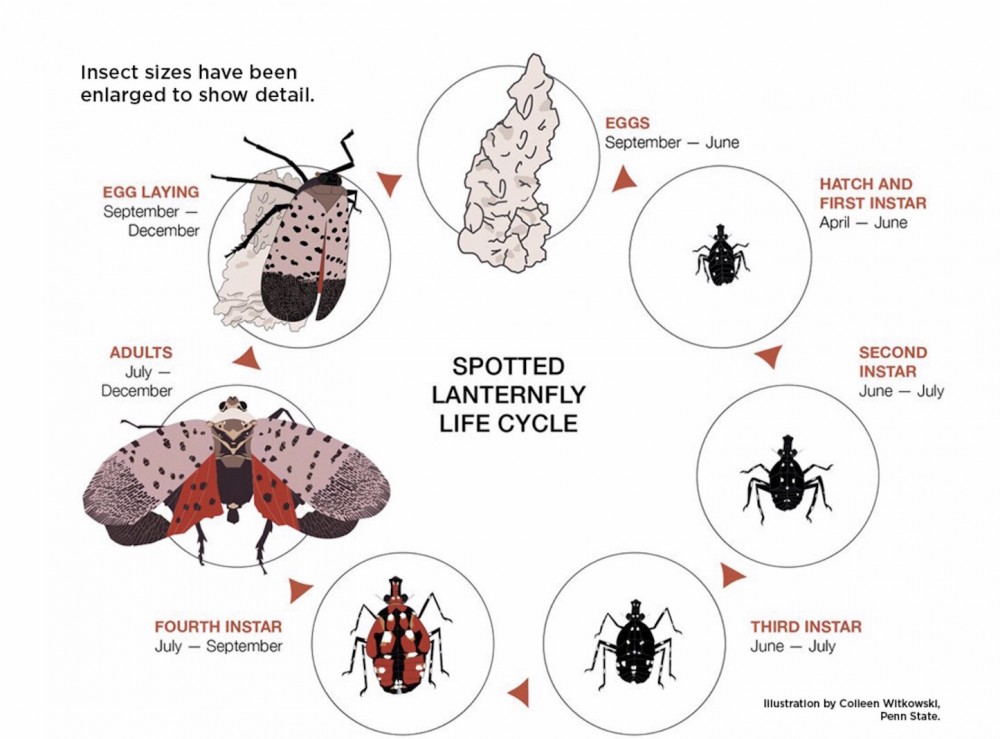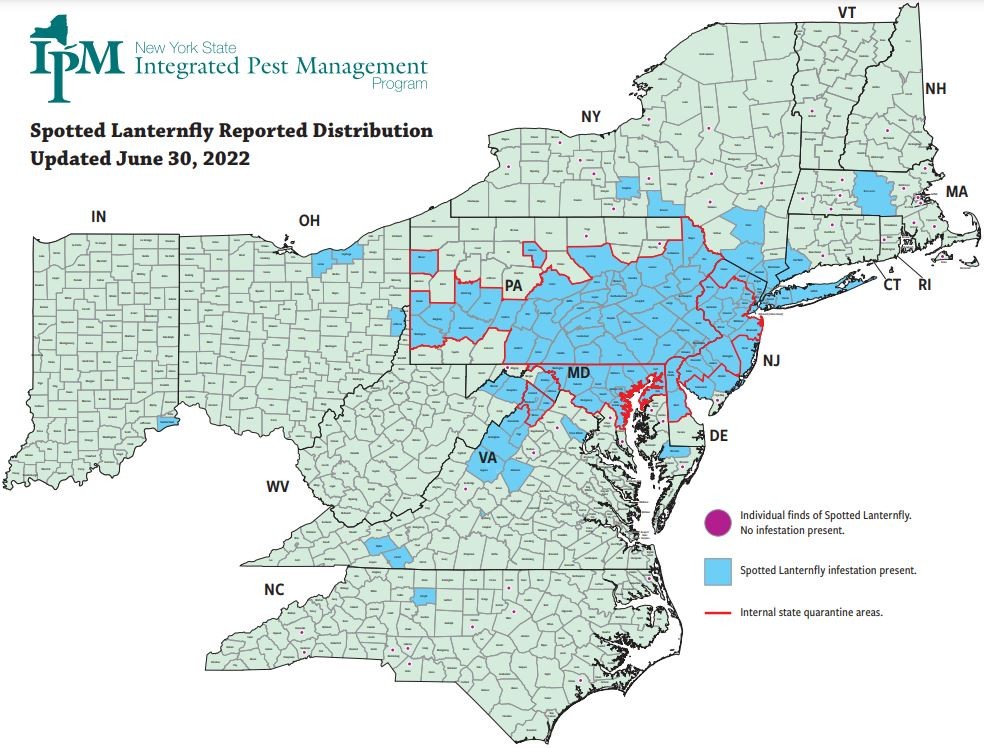 Spotted Lanternfly Resources:
This fact sheet gives an overview of the life stages of the Spotted Lanternfly to aid in identification: https://agriculture.ny.gov/system/files/documents/2021/01/slf_eggmasses.pdf
Current Distribution Map and the SLF Reporting Portal link can be found here:
https://nysipm.cornell.edu/environment/invasive-species-exotic-pests/spotted-lanternfly/
Original article by Amy Barkley, July 12th, 2022 - Updated on July 19th, 2022.
Upcoming Events
Farm Asset Protection Strategies: Safeguarding Agricultural Legacies for Future Generations
November 14, 2023
November 17, 2023
November 20 - November 21, 2023November 29 - December 1, 2023
Join us for a workshop on farm asset protection to help you preserve long-standing agricultural legacies. In these uncertain times, safeguarding valuable farm assets has become paramount to ensure our farming communities' continued success and sustainability. Each participant will receive written materials and a flash drive containing various resources. Morning refreshments and lunch are included.
Value-Added Dairy Tour
March 13 - March 14, 2024
Pre-register now for our March 2024 Value-Added Dairy Tour!
Announcements
Help Us Help You - SWNYDLFC Needs Assessment
As we look ahead to the new year, we would like to survey the community and learn more about the topics you're most interested in hearing from us about.
TAKE SHORT SURVEY