Have you seen Gypsy Moth Larvae in Your Fields?
June 18, 2021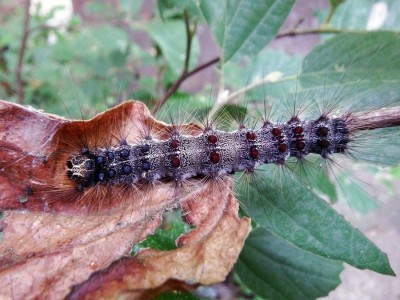 From Mike Stanyard on the Northwest New York Dairy, Livestock, and Field Crops Team: Gypsy moth larvae are serious pests of deciduous trees and even conifers. They were really bad last year in the Finger Lakes and west. They are back in impressive numbers again this year and defoliating hardwoods in woodlots, parks and residential areas. What about field crops? I have been getting lots of phone calls and pictures of gypsy moth caterpillars in corn, soybean, wheat and even onions. Could they become a pest in our crops? The larvae are hungry and I think they will try anything once. I believe they may do a little feeding but realize it is not what they are looking for and move on.
Upcoming Events
Transition Cow Tuesdays Webinar Series
November 2, 2021
November 9, 2021
November 16, 2021
November 23, 2021
November 30, 2021
December 7, 2021
December 14, 2021

Have you…
been working with the farm transition cow program but want to know more about the how, what and why?
wanted to improve the transition cow performance of your herd but need to know where to start?
wanted to increase the skills you bring to the farm or your farm employer?
been wondering where you'll find the time to attend a course or workshop?
Agricultural Supervisory Leadership Certificate Program - Managing Performance
November 16, 2021
November 23, 2021
November 30, 2021
December 7, 2021
December 14, 2021
December 21, 2021

Online course to help people lead and retain employees
African Swine Fever - What Does it Mean for You?
December 1, 2021
Join us for a virtual discussion on the status of and risks facing New York pig farms from African Swine Fever (ASF). Eireann Collins, DVM, NYS Department of Agriculture and Markets will be covering the symptoms of ASF and what would happen if the disease reached the US. This will be a short presentation with ample time for questions and answers.
Register
This educational meeting is supported by NYS Department of Agriculture and Markets, Cornell Cooperative Extension Livestock Program Work Team and New York Pork Producers Cooperative.
Announcements
No announcements at this time.