Seeking Dairy Farms to Join Dairy Grazing Cohort
Katelyn Walley-Stoll, Business Management Specialist and Team Leader
Southwest New York Dairy, Livestock and Field Crops Program
June 11, 2021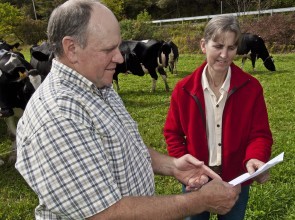 Cornell Cooperative Extension's Fay Benson is seeking dairy farmers who are interested in transitioning to grazing for their milk cows or heifers.
Training and Funding to Grow Dairy Grazing Operations in New York

Limited Time to Apply to Join Dairy Grazing Cohort
The Northeast Dairy Business Innovation Center has introduced a new initiative to support new or existing dairy farms that would like to increase grazing practices within their operation. As part of this initiative, Fay Benson with Cornell Cooperative Extension is partnering with Pennsylvania Association of Sustainable Agriculture (PASA) to expand well-managed grazing lands in New York and Pennsylvania and support regional farmers in their grazing transition. To learn more about the project and to apply to be a participant go to: https://pasafarming.org/soil-institute/farmer-training-development/transition-to-grazing-cohorts/
Farmers that are selected to join one of the two cohorts, will be eligible to receive one on one technical support as well as apply for a $5,000 grant at the end of the two-year commitment. Signups will be accepted through July 1st and the New York Cohort will be capped at 10 farms. Applicants must apply online.
For more information, contact Fay Benson, Small Dairy Specialist; South Central Dairy & Field Crops Team: 607-391-2669 or afb3@cornell.edu.
Upcoming Events
Transition Cow Tuesdays Webinar Series
November 2, 2021
November 9, 2021
November 16, 2021
November 23, 2021
November 30, 2021
December 7, 2021
December 14, 2021

Have you…
been working with the farm transition cow program but want to know more about the how, what and why?
wanted to improve the transition cow performance of your herd but need to know where to start?
wanted to increase the skills you bring to the farm or your farm employer?
been wondering where you'll find the time to attend a course or workshop?
Agricultural Supervisory Leadership Certificate Program - Managing Performance
November 16, 2021
November 23, 2021
November 30, 2021
December 7, 2021
December 14, 2021
December 21, 2021

Online course to help people lead and retain employees
African Swine Fever - What Does it Mean for You?
December 1, 2021
Join us for a virtual discussion on the status of and risks facing New York pig farms from African Swine Fever (ASF). Eireann Collins, DVM, NYS Department of Agriculture and Markets will be covering the symptoms of ASF and what would happen if the disease reached the US. This will be a short presentation with ample time for questions and answers.
Register
This educational meeting is supported by NYS Department of Agriculture and Markets, Cornell Cooperative Extension Livestock Program Work Team and New York Pork Producers Cooperative.
Announcements
No announcements at this time.