Dairy Market Watch - March 2021
Katelyn Walley-Stoll, Business Management Specialist and Team Leader
Southwest New York Dairy, Livestock and Field Crops Program
March 30, 2021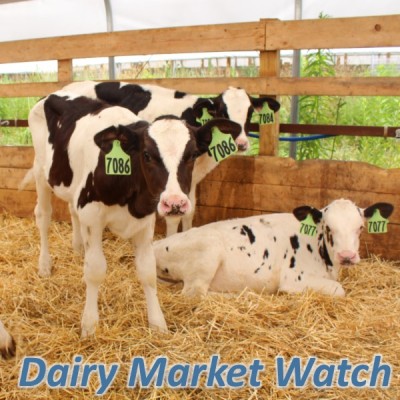 February 2021 Dairy Situation and Outlook, March 18, 2021
Bob Cropp, Professor Emeritus, University of Wisconsin Madison, Division of Extension
Originally published online at https://fyi.extension.wisc.edu...
Dairy product prices have strengthened during March and have been higher all month than averages for the month of February. On the CME 40-pound cheddar blocks averaged $1.5821 per pound for February started March at $1.625, reached the current high of $1.80. This strength had added nearly $1.60 to the Class III price. With these improvements in dairy product prices the March Class III price will near $16.30 compared to $15.75 for February. The March Class IV price will be near $14.35 compared to $13.19 in February.
Milk prices for the remainder of the year are uncertain. But there are positive signs for milk prices. Restaurants in some states are being allowed to expand in door dining and some schools are allowing the partial return of students. This is already showing improvement in food service sales which is positive for butter and cheese prices. Hopefully by fall restaurants and schools will be operating more to normal. Dairy exports are forecasted to stay relatively strong for nonfat dry milk/skim milk powder with exports higher than a year ago for butter and whey products. Butter, cheese, and nonfat dry milk/skim milk powder prices are very competitive to other major dairy exporters. Port congestions, container shortages, and labor shortages stemming from trade imbalances created by the pandemic undercut dairy exports last year. This situation is expected to improve.
On the downside stocks levels are relatively high and need to be worked down. The latest stock report showed January 31st stocks of butter up 33% from a year ago, American cheese stocks 3% higher, total cheese stocks also 3% higher, nonfat dry milk stocks 8.8% higher and dry whey stocks 7.1% higher. Expected improved domestic sales and dairy exports will help draw down stocks.
Milk production for the remainder of the year will be a major factor affecting the level of milk prices. USDA revised January milk production to be 2.4% higher than a year ago. February milk production adjusting for 29 days in February a year ago showed milk production was 2.0% higher. Milk cow numbers started to increase month to month back in July of last year. February cow numbers increased another 3,000 to 81,000 more than a year ago or 0.9% higher. Adjusting for 29 days in February a year ago milk per cow as 1.2% higher. Thus, milk production continues at a relatively higher level putting downward pressure on milk prices.
USDA latest forecast has milk cow numbers averaging 57,000 head or 0.6% higher than a year ago with milk per cow 1.2% higher resulting in 1.8% more milk for the year. This is a lot of milk considering last year was leap year. Favorable milk prices will require improved domestic sales and strong exports.
Current Class III dairy futures have recently weakened some but are still fairly optimistic. Class III futures reach the low $18's by June and stay in the low 18's through November before falling to the $17's for December. These prices provide some opportunity for dairy farmers to protect more favorable milk prices with Class III futures or options or using the Revenue Protection program. With feed prices higher than a year ago protecting milk prices is important. USDA is not as optimistic about prices. Their latest forecast has Class III averaging just $16.75 for the year compared to $18.16 last year. The level of government purchases of cheese, butter and fluid milk is not likely to be at the level of last year to support milk prices. The fifth round of the Farms to Families Food Box program expires in April. There remain other government programs where dairy products will be purchased for school lunch and food banks. Price forecasts will no doubt change as the level of milk production, domestic sales and dairy exports unfold.
Dairy Market Watch 2021 03 (March 2021) (pdf; 2011KB)
Upcoming Events
Is Grazing Sheep Beneath Solar Arrays and Opportunity for Your Future?
September 25, 2023
Mt. Morris, NY
Grazing sheep beneath utility-scale solar arrays can build wealth of present and future sheep farmers as vegetation management service providers and access to additional pasture. The Cornell Cooperative Enterprise Program (CEP) conducted a survey earlier this year completed by over 600 farmers. Farmers identified barriers to grazing sheep under solar arrays and weighed in on need for a producer-led organization to negotiate contracts on their behalf, coordinate logistics of multiple flocks, provide transport of sheep to and from the site, care for sheep while on-site, and provide supplemental mowing. Additional questions focused on processing and marketing needs.
Technology for Grazing Dairies Webinar
September 27, 2023
Join us for this free webinar! Brought to you by the dairy specialists of CCE NWNY and SWNY Dairy, Livestock and Field Crops Programs.
Protecting Against Murphy's Law: A FREE Live Seminar for Veterans.
October 4, 2023
What Can Go Wrong, Will Go Wrong!
Good ole' Murphy's Law is probably the best description of what it's like to be a farmer that there is! Join Cornell Cooperative Extension Farm Business Management Specialist, Katelyn Walley-Stoll, to learn more about the 5 areas of risk on farms and how to develop strategies to manage those risks. Participants will have the opportunity to identify areas of risk on their own farms and brainstorm ways to (try to) prevent the inevitable!
Registration is REQUIRED by visiting https://tinyurl.com/CCERisk or call Kelly at 585-268-7644.
Announcements
No announcements at this time.