The Results are in for SWNY! Soybean Cyst Nematode Distribution in the State
Joshua Putman, Field Crops and Forage Specialist
Southwest New York Dairy, Livestock and Field Crops Program
November 24, 2020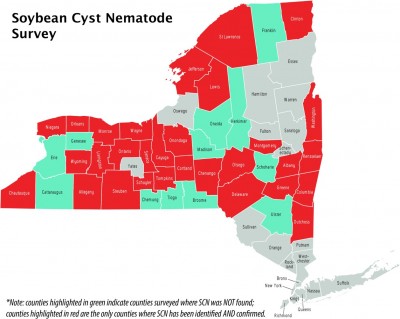 -Information prepared by Jaime Cummings, NYS Integrated Pest Management Program-

Soybean cyst nematode (SCN) is considered to be the number one pest of soybeans nationally and globally. It was estimated to have caused 109 million bushels lost in the US alone in 2017. The nematode has not been considered a pest of concern to NY growers until it was first discovered in Cayuga County in 2016. Since then, the NYS Integrated Pest Management Program in cooperation with statewide extension specialists, with support from NYS Department of Ag and Markets and the NY Corn and Soybean Growers Association, has been leading efforts on surveying for this pest to determine how widespread it is, and at what levels so that we can help growers make the best and most economical management decisions. In 2019, we confirmed SCN in an additional six counties, and expect to find it in additional locations every year. That means it's time for our soybean growers to start actively managing for this potentially devastating pest, before it becomes our number one problem for soybean production in NY.
The 2020 statewide SCN survey revealed 23 NEW counties confirmed with at least one field positive for SCN. In SWNY, 3 out of 5 counties tested positive for SCN (Steuben, Allegany, and Chautauqua). This brings us to a total of 30 counties with SCN confirmations since 2016. The maps below illustrate the progress and results of our SCN testing over the past few years. Additional resources about SCN can be accessed at: https://www.thescncoalition.com/resources/tools-to-download. Also, check out these short videos titled "Let's Talk Todes" to learn more about managing soybean cyst nematode.

Upcoming Events
Is Grazing Sheep Beneath Solar Arrays and Opportunity for Your Future?
September 25, 2023
Mt. Morris, NY
Grazing sheep beneath utility-scale solar arrays can build wealth of present and future sheep farmers as vegetation management service providers and access to additional pasture. The Cornell Cooperative Enterprise Program (CEP) conducted a survey earlier this year completed by over 600 farmers. Farmers identified barriers to grazing sheep under solar arrays and weighed in on need for a producer-led organization to negotiate contracts on their behalf, coordinate logistics of multiple flocks, provide transport of sheep to and from the site, care for sheep while on-site, and provide supplemental mowing. Additional questions focused on processing and marketing needs.
Technology for Grazing Dairies Webinar
September 27, 2023
Join us for this free webinar! Brought to you by the dairy specialists of CCE NWNY and SWNY Dairy, Livestock and Field Crops Programs.
Protecting Against Murphy's Law: A FREE Live Seminar for Veterans.
October 4, 2023
What Can Go Wrong, Will Go Wrong!
Good ole' Murphy's Law is probably the best description of what it's like to be a farmer that there is! Join Cornell Cooperative Extension Farm Business Management Specialist, Katelyn Walley-Stoll, to learn more about the 5 areas of risk on farms and how to develop strategies to manage those risks. Participants will have the opportunity to identify areas of risk on their own farms and brainstorm ways to (try to) prevent the inevitable!
Registration is REQUIRED by visiting https://tinyurl.com/CCERisk or call Kelly at 585-268-7644.
Announcements
No announcements at this time.