Dairy Market Watch - October 2020
Alycia Drwencke, Dairy Management Specialist
Southwest New York Dairy, Livestock and Field Crops Program
October 26, 2020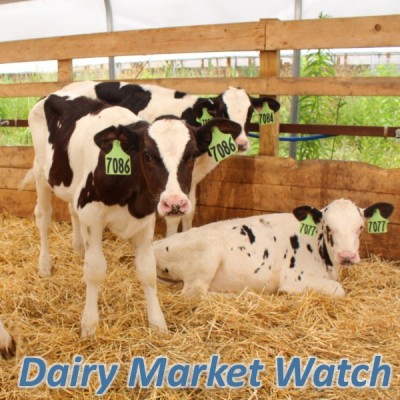 October 2020 Dairy Situation and Outlook
By Bob Cropp, Professor Emeritus, University of Wisconsin-Madison
This is an excerpt from the originally published Outlook available here: https://fyi.extension.wisc.edu...
Somewhat surprising we will see considerable strength in October milk prices. Class III was $24.54 back in July but had fallen to $16.43 by September. It looks like Class III for October will increase to about $21.40 reaching or surpassing the previous record for the month of October set in 2014 at $21.35. Cheese prices have increased as well as dry whey prices pushing Class III prices higher.
Factors contributing to higher cheese prices include cheese production, retail sales, government purchases and exports. The latest dairy product production report was for August showing American cheese production 1.3% lower than a year ago with total cheese production 2.1% lower. As consumers continue to eat more meals at home retail cheese sales have been relatively strong. The government is purchasing cheese under the third round of the Farm to Families Food Box program which ends on October 31st. With cheese prices above world prices it was surprising that August cheese exports were 17% higher than a year ago. Dry whey exports were 54% high than a year ago .
Butter prices have been rather weak all year. A year ago at this time butter was over $2 per pound. Butter has been below $2 per pound all year being as low as $1.15 in April and only as high as $1.90 in June. But nonfat dry milk prices have improved with very strong exports. August exports were 35% higher than a year ago. Nonfat dry milk was $1.03 per pound early September and is now $1.1275. This will push the Class IV price from $12.75 in September to about $13.55 in October but still leaving more than a $7 spread between Class III and Class IV prices.
Class III dairy futures remain strong for the remainder of the year with November at $21.44 and December at $19.38. Whether Class III will hold at this level is not certain, but it looks like Class III for the year will average over $18 compared to the 2019 average of $16.96. As we look into next year there remains a lot of uncertainty about milk prices. The level of milk production, domestic sales and exports are crucial. But so important will be how soon the COVID-19 virus slows down. Until it does restaurants will not be fully open, schools and colleges will be virtual learning rather than in person instruction. Major sports will not have audiences in the stands and major events and conferences will not be held or if they are, they maybe virtual. The COVID-19 virus is hurting not only the U.S. economy but the world economy which impacts domestic sales and exports.
Milk production continues to run at a relatively high level putting downward pressure on milk prices. USDA's report on September milk production showed milk production 2.3% higher than a year ago, the result of 0.4% more cows and 2.0% increase in milk production per cow. Milk cow numbers have been increasing since July with July up 7,000 head, August 4,000 and September 5,000. Of the 24 reporting states 16 had more milk. All the five leading dairy states that produce over half of the nation's milk production had higher milk production. Compared to last year production was up 3.2% in California, 0.7% in Wisconsin, 2.9% in Idaho, 1.4% in New York and 6.5% in Texas. Of all the states South Dakota had the largest increase at 12.3%. Other strong increases were Indiana at 9.0%, Colorado at 7.8%, and Kansas at 6.8%. There were decreases in milk production of 2.2% in Arizona, 3.7% in Florida, 5.5% in Vermont and 0.9% in New Mexico. USDA is forecasting 2021 milk production to be 1.4% higher than this year with just a 5,000 head increase in the average herd size and a 1.4% increase in milk per cow. At this level of milk production, it will take good domestic sales and exports to provide good milk prices.
As of now it seems reasonable to assume 2021 milk prices could be less volatile. Class III could be in the $16's first half of the year, reach the $17's in the second a half and averaging in the high $16's or low $17's for the year. If the COVID-19 is under control, there could be a good rally in milk prices for the second half of the year. But, this far from certain. Dairy farmers should seriously consider signing up for the Dairy Margin Coverage program for 2021.
Dairy Market Watch 2020 10 (October 2020) (pdf; 1894KB)
Upcoming Events
Is Grazing Sheep Beneath Solar Arrays and Opportunity for Your Future?
September 25, 2023
Mt. Morris, NY
Grazing sheep beneath utility-scale solar arrays can build wealth of present and future sheep farmers as vegetation management service providers and access to additional pasture. The Cornell Cooperative Enterprise Program (CEP) conducted a survey earlier this year completed by over 600 farmers. Farmers identified barriers to grazing sheep under solar arrays and weighed in on need for a producer-led organization to negotiate contracts on their behalf, coordinate logistics of multiple flocks, provide transport of sheep to and from the site, care for sheep while on-site, and provide supplemental mowing. Additional questions focused on processing and marketing needs.
Technology for Grazing Dairies Webinar
September 27, 2023
Join us for this free webinar! Brought to you by the dairy specialists of CCE NWNY and SWNY Dairy, Livestock and Field Crops Programs.
Protecting Against Murphy's Law: A FREE Live Seminar for Veterans.
October 4, 2023
What Can Go Wrong, Will Go Wrong!
Good ole' Murphy's Law is probably the best description of what it's like to be a farmer that there is! Join Cornell Cooperative Extension Farm Business Management Specialist, Katelyn Walley-Stoll, to learn more about the 5 areas of risk on farms and how to develop strategies to manage those risks. Participants will have the opportunity to identify areas of risk on their own farms and brainstorm ways to (try to) prevent the inevitable!
Registration is REQUIRED by visiting https://tinyurl.com/CCERisk or call Kelly at 585-268-7644.
Announcements
No announcements at this time.