Dairy Market Watch - May 2020
Katelyn Walley-Stoll, Business Management Specialist and Team Leader
Southwest New York Dairy, Livestock and Field Crops Program
May 26, 2020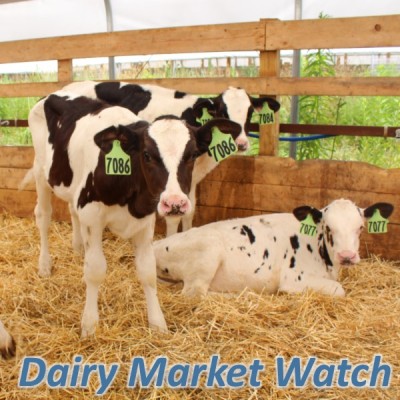 Price Optimism and CFAP Sign-Ups
By Katelyn Walley-Stoll, Cornell University Cooperative Extension
As published in their May 18th Livestock, Dairy, and Poultry Outlook, USDA is forecasting the 2020 All-Milk price to be $14.55/cwt, which is an increase from last month's $14.35/cwt forecast. They also are looking at 2021's all-milk price to be $15/cwt.
Bob Cropp in his monthly Dairy Situation and Outlook, is estimating that things will be a bit higher for the all-milk price, by at least another $1, with Class III into the high $16's. There is hope that the market will continue to recover slowly, especially if it follows at least part of the upward trend we're seeing on the futures market. From his report: "Milk price forecasts can change rather dramatically from one month to another. This is the situation between the April price forecast and the May forecast. In April it looked like the May Class III price would be about $11.00. The particularly good news is that it now looks like the May Class III price will be near $12.35. This increase is the result of unexpected rather strong rally in cheese prices. On the CME since the beginning of May, barrel cheese increased by $0.66 per pound and 40-pound blocks by $0.72. Since the beginning of May, butter has increased $0.45 per pound and nonfat dry milk $0.20. But since the increase has been mostly since the past 10 trading sessions, the May Class IV price will also be higher than forecasted in April, but only about $10.65 versus $10.15."
While there is hope to be found in the recent market upticks, it's unlikely that these prices will hold as high as the futures markets are trading. There, June and July Class III futures are in the $17's and $16's for the rest of 2020. There are some positive things on the horizon as restaurants begin to slowly reopen, and USDA increases their Section 32 purchases while also rolling out the food box program. We're also on the decline of this season's "Spring Flush", and are starting to see the effect of cooperatives' production restrictions/base milk implementations as farmers reduce milk production and increase culling. April's milk production was only 1.4% higher than a year ago, whereas March's production increased by 2.8%. There continues to be some milk dumping, although that seems to have subsided for the most part. However, as global economies head into recession, this could reduce both domestic purchases and export market sales. Additionally, there is the uncertainty of how community infection rates will change as businesses begin to open again and whether this will cause a second round of shut downs.

Don't forget to contact your local Farm Service Agency office to fill out your farm's Coronavirus Food Assistance Program (CFAP) application. This will provide eligible producers up to $250,000 in direct payments based on their documented production and a national payment rate. The benefit for dairies equates out to a $6.47/cwt payment based on first quarter production. You can also work with FSA staff to value livestock sale losses and crop inventories for payments in those commodity areas as well. While this won't make up for the entire loss producers will see in 2020, this will provide a significant cash infusion to help farms cash flow their business. It's important to know that FSA office staff are working remotely, so please start with a phone call to them to learn more about their process to get application items submitted, or to learn more about the eligibility of your specific operation.

Resources and For More Information:

Dairy Situation and Outlook, May 20, 2020 by Bob Cropp. https://fyi.extension.wisc.edu...

Dairy Situation and Outlook Podcast, May 2020 by Mark Stephenson & Bob Cropp. https://dairymarkets.org/PubPo...

USDA's New Direct Payments Program for Dairy Farmers, by Chris Wolf, Mark Stephenson, and Andrew Novakovic. https://dairymarkets.org/PubPo...

Livestock, Dairy, and Poultry Outlook, USDA ERS. https://www.ers.usda.gov/webdo...
Dairy Market Watch 2020 05 (May 2020) (pdf; 2027KB)
Upcoming Events
Is Grazing Sheep Beneath Solar Arrays and Opportunity for Your Future?
September 25, 2023
Mt. Morris, NY
Grazing sheep beneath utility-scale solar arrays can build wealth of present and future sheep farmers as vegetation management service providers and access to additional pasture. The Cornell Cooperative Enterprise Program (CEP) conducted a survey earlier this year completed by over 600 farmers. Farmers identified barriers to grazing sheep under solar arrays and weighed in on need for a producer-led organization to negotiate contracts on their behalf, coordinate logistics of multiple flocks, provide transport of sheep to and from the site, care for sheep while on-site, and provide supplemental mowing. Additional questions focused on processing and marketing needs.
Technology for Grazing Dairies Webinar
September 27, 2023
Join us for this free webinar! Brought to you by the dairy specialists of CCE NWNY and SWNY Dairy, Livestock and Field Crops Programs.
Protecting Against Murphy's Law: A FREE Live Seminar for Veterans.
October 4, 2023
What Can Go Wrong, Will Go Wrong!
Good ole' Murphy's Law is probably the best description of what it's like to be a farmer that there is! Join Cornell Cooperative Extension Farm Business Management Specialist, Katelyn Walley-Stoll, to learn more about the 5 areas of risk on farms and how to develop strategies to manage those risks. Participants will have the opportunity to identify areas of risk on their own farms and brainstorm ways to (try to) prevent the inevitable!
Registration is REQUIRED by visiting https://tinyurl.com/CCERisk or call Kelly at 585-268-7644.
Announcements
No announcements at this time.