Dairy Market Watch - April 2020
Katelyn Walley-Stoll, Business Management Specialist and Team Leader
Southwest New York Dairy, Livestock and Field Crops Program
April 29, 2020
Struggle, Price Bottoms, and Silver Linings
By Katelyn Walley-Stoll, Cornell University Cooperative Extension
Struggle. This has been a prevailing theme, it seems to me, for April 2020. We've seen families struggling to create new routines and manage anxiety. Employees who've been laid off struggle to navigate unemployment systems, and those who have essential jobs are struggling to find child care and stay healthy. Communities struggle with balancing health and safety while also looking at potentially devastating economic downturns. I know I've struggled to put together the mountain of information that is coming in on dairy markets for this commentary in a meaningful way. But, I also know that farm owners are struggling. Farms are being bombarded with information while trying to adapt to this rapidly changing situation. Some face production restrictions, illness or employee health concerns, and dreary balance sheets. Almost all are struggling with the question of "Just how bad will this get?" while talking to lenders and family members. And I know that farmers are people, too. Hardworking people dedicated to protecting the health and safety of family, employees, animals, and their community. It's been a struggle to balance the doom and gloom with the optimism that sunshine, warmer temperatures, and spring plowing seem to bring. Yet, while we face an unprecedented decline in milk prices, there are also the little bumps in the road to deal with - a backordered part, a sick animal, or a broken stall divider.
So, just how bad will this get? We don't quite know. Some are saying that we've already hit rock bottom, others offer caution while waiting to see what export markets do, and we don't know yet how quickly the current price decline and production restrictions/limitations will shift total milk production (balancing supply and demand). In this "Average Daily U.S. Milk Production" chart, we can see the increase in milk production that happened in this year's first quarter. As Andy Novakovic, Cornell University, stated in a recent update: "On the one hand, the strong increase is not surprising in that prices were strengthening during the last half of 2019 and looking good in January and February... At this point, USDA has estimated that the increasing percentages for production reflect increasing growth rates in both yield and cow numbers, with 3/4 of the increase attributed to higher yields. This puts into perspective why cooperatives and even some non-cooperative handlers are telling their farmers to slow down". In their recent Dairy Outlook Podcast, Bob Cropp and Mark Stephenson, University of Wisconsin, discussed that we are probably close to the bottom. This is going to depend on how quickly milk production slows, when the economy opens back up, and what the export market looks like. We've already seen a $6 drop in Class III and Class IV futures since early January. There is also a concern about dairy product storages that are building, especially as global distribution chains move slowly and experience bottlenecks. But, they did comment that it looks like we could back in the $15's with some price strengthening in the second half of the year. USDA price forecasts show a $3.90 drop in Class III to $12.75, a $3.60 drop in Class IV to $12.15, and a projected all-milk price of $14.35 for 2020. Last month's forecast was $18.25.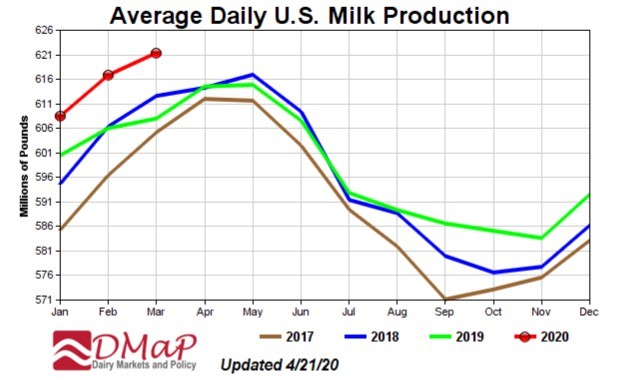 There are some silver linings to search for through all of this. USDA's New Coronavirus Food Assistance Program did include $2.9 billion earmarked for dairy. How this will be distributed entirely, and in what amounts, still is in the air as more details continue to filter through, but some estimates show a $1-$2/cwt payment to farms. The Federal Product Purchase Program and the Nourish New York initiative will both work to move dairy into food banks and emergency food assistance streams. And through all of this, I've found hope in looking at how consumers are choosing dairy. They are stockpiling cheese, wondering how to support their local dairy farm, and stress-eating ice cream. People are thinking about where their food comes from and the farmers that grow and produce what they feed their families. Maybe this will bring about a time of continued consumer support as folks line up in the hundreds to participate in local dairy drives and share posts on social media in the thousands about supporting the industry. Hang in there and stay safe!
Dairy Market Watch - April 2020 (pdf; 2014KB)
Upcoming Events
Is Grazing Sheep Beneath Solar Arrays and Opportunity for Your Future?
September 25, 2023
Mt. Morris, NY
Grazing sheep beneath utility-scale solar arrays can build wealth of present and future sheep farmers as vegetation management service providers and access to additional pasture. The Cornell Cooperative Enterprise Program (CEP) conducted a survey earlier this year completed by over 600 farmers. Farmers identified barriers to grazing sheep under solar arrays and weighed in on need for a producer-led organization to negotiate contracts on their behalf, coordinate logistics of multiple flocks, provide transport of sheep to and from the site, care for sheep while on-site, and provide supplemental mowing. Additional questions focused on processing and marketing needs.
Technology for Grazing Dairies Webinar
September 27, 2023
Join us for this free webinar! Brought to you by the dairy specialists of CCE NWNY and SWNY Dairy, Livestock and Field Crops Programs.
Protecting Against Murphy's Law: A FREE Live Seminar for Veterans.
October 4, 2023
What Can Go Wrong, Will Go Wrong!
Good ole' Murphy's Law is probably the best description of what it's like to be a farmer that there is! Join Cornell Cooperative Extension Farm Business Management Specialist, Katelyn Walley-Stoll, to learn more about the 5 areas of risk on farms and how to develop strategies to manage those risks. Participants will have the opportunity to identify areas of risk on their own farms and brainstorm ways to (try to) prevent the inevitable!
Registration is REQUIRED by visiting https://tinyurl.com/CCERisk or call Kelly at 585-268-7644.
Announcements
No announcements at this time.