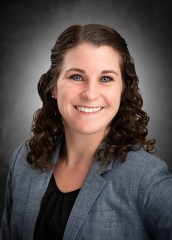 Alycia Drwencke
Dairy Management Specialist
CCE Steuben County
20 East Morris Street
Bath, NY 14810
cell 517-416-0386
email Alycia
Areas of Interest
Calf and Heifer Management, Cow Comfort, Improving Efficiency, Facilities, and Herd Health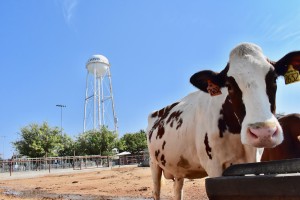 Alycia Drwencke will be working on programming related to heifer and calf management, cow comfort, improving efficiency, facilities, and herd health while working to identify the needs of the region. You can reach Alycia by emailing amd453@cornell.edu or by calling 517-416-0386.
Alycia grew up on small farm in Southeast Michigan. She earned her Bachelor's Degree in Animal Science with a minor in Agribusiness Management from Michigan State University. Drwencke received her Master's Degree in Animal Biology from the University of California, Davis. While in Davis, Alycia's research focused on heat abatement for dairy cattle, specifically looking at more energy and water efficient cooling methods. She was able to carry out this research on both the university farm and a commercial dairy. Alycia also assisted with other research projects looking at calf care, disbudding, and beef management. In her free time, Alycia enjoys traveling and hiking. She is looking forward to working with producers in the area and connecting the agricultural industry to Cornell resources.
Upcoming Events
Cornell Nutrition Conference
October 19 - October 22, 2020
10:00 am - 2:00 pm EDT Daily
82nd Annual Cornell Nutrition Conference for Feed Manufacturers - Now Virtual!
October 19 - 22, 2020
10:00AM - 2:00PM EDT Daily via Zoom
For 82 years, the Cornell Nutrition Conference has provided industry leading research and information across the spectrum of animal nutrition to feed industry professionals and nutritional consultants.
Registration:
Full Event - $100
Elanco Pre-Conference Symposium only - $50
In addition to the daily live feed, all registrants will receive access to electronic proceedings and a mobile event app with exclusive content and networking opportunities. Join us live each day or watch sessions on-demand later.
H-2B: Navigating the Maze - Seasonal Business Labor and Immigration Webinar Series
October 20, 2020
9am-10:30am
H-2B: Navigating the Maze
Tuesday, October 20 | 9:00 - 10:30 a.m.
• H-2B 101: The 2021 Process
• H-2B DOL and USCIS Compliance Requirements
• How to Prepare for an H-2B Government Audit
Register
Here
Seasonal Business Labor and Immigration Webinar Series put on by Harris Beach PLLC
Solar Leasing: Ten Things You Should Know Before Leasing Land for Solar Development
October 20, 2020
7:00pm - 8:00pm
Landowners facing a decision on whether or not to lease or sell their property should have a good idea of what they are giving up and what they are gaining before they sign a lease or sale option. The Solar Leasing: Ten Things You Should Know Before Leasing Your Land for Solar Development webinar will be a conversation about solar leases and what landowners should understand before leasing.
Announcements
From our Team to Yours: COVID-19 Resources for Dairy Farmers
The
South Central NY Dairy and Field Crops Team
has compiled a
list of articles
on
their blog
that we think may be useful to dairy producers and their service providers as we all navigate the COVID-19 situation. Please stay safe and reach out to
our team
if you have questions or need help finding information. We are here to help with tools and resources to support all of the normal day-to-day dairy, livestock, and field crop management considerations, in addition to emerging topics related to COVID-19.
CORE Pesticide Training and Recertificaiton Credits
1.75 Pesticide recertification credits in the CORE category approved!
Josh Putman, Field Crops Specialist with the Southwest NY Dairy, Livestock and Field Crops Program, will provide an overview of the basic information involved in the pesticide application certification process and will present the basics of Integrated Pest Management (IPM) as well as general pesticide safety, regulations and pesticide resistance.
New York State Forage Exchange Announced
New York State Forage Exchange Announced
Within New York State several regions have experienced drought conditions reducing the quality and quantity of forages produced for dairy and livestock production. To help agricultural producers locate forage to purchase, or for producers that have forage to sell, Cornell Cooperative Extension announces the NYS Forage Exchange website, nysforageexchange.com.
The NYS Forage Exchange provides a free system to match potential sellers and buyers of forage within New York State. Sellers can easily register within the system and then post the forage they have available to sell. Potential purchasers can browse the advertisements, and then contact the seller through email for additional information or to complete purchase arrangements.
Watch this screencast on how to use the NYS Forage Exchange.
NYS Forage Exchange is a moderated website, so all ad submissions are reviewed for appropriateness before publication on the forage exchange website. The information provided is general and educational in nature. Employees of Cornell University and Cornell Cooperative Extension do not endorse or recommend any specific product or seller listed on this site.
Price Risk Management for Dairy Farmers
The Capital Area Agricultural & Horticultural Program is partnering with Cornell PRO-DAIRY and NY FarmNet to host a series of two webinars in November for dairy producers. The first webinar will be on November 3rd and will cover Dairy Margin Coverage, Forward Contracting, and Determining if Risk Management is Right for my Farm. The second webinar will be on November 10th and will talk about Dairy Revenue Protection, more on Forward Contracting, and Dairy Farmer Experience with Forward Contracting. The cost to attend is $10 per farm for both sessions, and the webinars will be from 7pm - 9pm each evening. Register here. Price Risk Management is becoming an increasingly important topic, especially as we reflect on the many ups and downs of 2020 so far.
Follow us on Facebook!
Stay up-to-date with our program by
liking our page.