So, You Want to Start a Farm? From CCE-Steuben & SWNYDLFC
---
Event Details
Date
May 18, 2023
Time
6pm - 8pm
Location
Civil Defense Center
7220 NY-54
Bath, NY 14810
Cost
Free Registration : Free
Host
Southwest New York Dairy, Livestock and Field Crops Program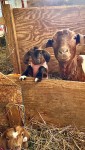 Do you want to turn your hobby into a farm business? Join Cornell Cooperative Extension Specialist, Katelyn Walley-Stoll, to learn more about the nuts and bolts of making your farming dreams come true! Topics that will be covered include the basics of starting a farm business, an outline of who's who, an introduction to available resources, and a discussion on "is farming right for you?". Additional topics and future events will be decided based on participant interests. Participants will receive several resources and connections for further exploration and will leave knowing the steps they need to take to start a farm! For more information, contact Katelyn Walley-Stoll (716-640-0522 & kaw249@cornell.edu) or Susan Walker (607-664-2574 & smw272@cornell.edu).
Upcoming Events
Value-Added Dairy Tour
March 13 - March 14, 2024
Pre-register now for our March 2024 Value-Added Dairy Tour!
Announcements
No announcements at this time.