Cornell High-Cannabinoid Hemp Field Day
---
Event Details
Date
August 10, 2023
Time
8:30am - 4:30pm
Location
Cornell AgriTech
630 W. North Street
Geneva, NY 14456
Host
Cornell AgriTech

Daniela Vergara
email Daniela Vergara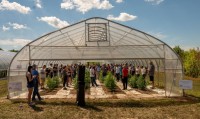 The Cornell Field Day will incorporate multiple workshop-style talks on several topics including biochemistry, genetics and breeding, pest management, and high-cannabinoid production. It will also involve discussion panels on the current legal and
education environment in NYS. This hands-on field day will have interactive workshops offering DEC credits on soil, disease, and pest management. Digital ag applications and updates on the USDA germplasm repository will also be included.
Some of the workshops will demonstrate pest management and disease identification including management options will be used to educate growers. Cornell's researchers, students, and Extension educators along with CCE staff will instruct participants and facilitate peer-based learning.
Registration Fee: $30.00 (lunch is included in registration fee). Pre-registration is required. REGISTER
Location: Cornell AgriTech, 630 W. North Street, Geneva, NY 14456


Upcoming Events
Farm Asset Protection Strategies: Safeguarding Agricultural Legacies for Future Generations
November 14, 2023
November 17, 2023
November 20 - November 21, 2023November 29 - December 1, 2023
Join us for a workshop on farm asset protection to help you preserve long-standing agricultural legacies. In these uncertain times, safeguarding valuable farm assets has become paramount to ensure our farming communities' continued success and sustainability. Each participant will receive written materials and a flash drive containing various resources. Morning refreshments and lunch are included.
Value-Added Dairy Tour
March 13 - March 14, 2024
Pre-register now for our March 2024 Value-Added Dairy Tour!
Announcements
Help Us Help You - SWNYDLFC Needs Assessment
As we look ahead to the new year, we would like to survey the community and learn more about the topics you're most interested in hearing from us about.
TAKE SHORT SURVEY