2023 Aurora Farm Field Day
---
Event Details

Date
August 3, 2023
Time
9:45 am - 3:00 pm
Location
Musgrave Research Farm
1256 Poplar Ridge Road
Aurora , NY 13026
Host
Cornell University

Louis Longchamps
email Louis Longchamps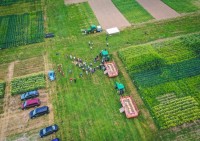 The annual Cornell Field Crop research field day will be held on Thursday, August 3rd at Musgrave Research Farm in Aurora, NY. The program promises to be stellar with three weed management topics and so much more!
Juan Carlos, Kirsten Workman, Quirine Ketterings - Manure has value! But how much?
Vipan Kumar - Integrated herbicide strategies for weed control in Enlist soybeans
Vipan Kumar, Lynn Sosnoskie & Mike Hunter - Evaluation of corn herbicide programs with and without atrazine
Louis Longchamps - The Farm of the Future Project and Digital Agronomy at Cornell
Kelly Robbins, Karl Kunze, Virginia Moore, Julie Hansen - Remote Sensing for Modeling Development Curves and Accelerated Breeding of Climate Resilient Crop Varieties
Jasdeep Singh, Helen Solecki, Gurpreet Kaur, Kirsten Workman, Quirine Ketterings - Soil health and greenhouse gas emissions from forage production fields in New York
Lynn Sosnoskie - Atrazine: Are Label Revisions Coming?
Eric Youngerman, Chris Pelzer, Matt Ryan, Kristen Loria - Impact of Timing of Cereal Rye Cover Crop Termination on Pests and Disease in No-till Corn
DEC and CCA credits have been requested.
The program is free and open to the public. A light breakfast and free lunch will be provided.
REGISTER HERE: https://cals.cornell.edu/2023-...


Upcoming Events
Farm Asset Protection Strategies: Safeguarding Agricultural Legacies for Future Generations
November 14, 2023
November 17, 2023
November 20 - November 21, 2023November 29 - December 1, 2023
Join us for a workshop on farm asset protection to help you preserve long-standing agricultural legacies. In these uncertain times, safeguarding valuable farm assets has become paramount to ensure our farming communities' continued success and sustainability. Each participant will receive written materials and a flash drive containing various resources. Morning refreshments and lunch are included.
Value-Added Dairy Tour
March 13 - March 14, 2024
Pre-register now for our March 2024 Value-Added Dairy Tour!
Announcements
Help Us Help You - SWNYDLFC Needs Assessment
As we look ahead to the new year, we would like to survey the community and learn more about the topics you're most interested in hearing from us about.
TAKE SHORT SURVEY