Business Planning for Beginning Farmers
---
Event Details
Date
April 10, 2023
Time
6pm-8pm
Location
CCE-Chautauqua (JCC Carnahan Building)
241 James Avenue
Jamestown, NY
Host
Southwest New York Dairy, Livestock and Field Crops Program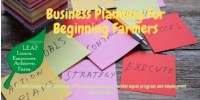 Business plans for farms are often viewed as yet another chore to do and usually result in dusty binders taking up space on the office shelf. This discussion based workshop will walk you through the mental exercise of planning your future agricultural adventures. Participants will leave with a better understanding of the use of a business plan, the essential components, and a "to-do" list of things to think about to inform future planning efforts. Additional opportunities for one-on-one follow up will also be offered. FSA Borrower credits may be made available for your attendance. This workshop will be taught by Katelyn Walley-Stoll, Team Leader and Farm Business Management Specialist from the Southwest New York Dairy, Livestock, and Field Crops Program with Cornell Cooperative Extension. She is a graduate of Cornell University with a degree in Animal Science and Ag Business Management, and owns and operates a diversified livestock farm.
$5 per person REGISTER


Upcoming Events
Agribusiness & Chamber of Commerce - What Does This Partnership Look Like?
May 30, 2023
Jamestown, NY
The Chautauqua County Chamber of Commerce is interested in working with more agribusiness' in Chautauqua County. Join this workshop with representatives from the Chautauqua County Chamber of Commerce to learn how a partnership with them would be a great next step for your agribusiness. They will also walk us through their online sales platform, ShopLocalCHQ. This is such an exciting time for collaborations and working to get the word out about locally sourced products of any kind!
Challenges and Opportunities of Managing Transition Cows on AMS
June 1, 2023
Join us for a live webinar on June 1st, 2023, at noon (ET), where we will discuss the challenges and opportunities of managing transition cows on automated milking systems (AMS).
TALK DAIRY TO ME: Facts, Fiction &FAQ's
June 1, 2023
From farming to processing and health to sustainability, both consumers and healthcare professionals have questions about dairy foods. With widespread information available online and in the media, it can feel overwhelming to discern fact from fiction. In this webinar, our dairy experts address common questions and misconceptions that can help health and wellness professionals feel confident in evidence-based guidance when it comes to dairy's role in health and sustainability.
Announcements
No announcements at this time.