Business Planning for Beginning Farmers
---
Event Details
Date
April 10, 2023
Time
6pm-8pm
Location
CCE-Chautauqua (JCC Carnahan Building)
241 James Avenue
Jamestown, NY
Host
Southwest New York Dairy, Livestock and Field Crops Program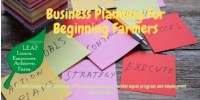 Business plans for farms are often viewed as yet another chore to do and usually result in dusty binders taking up space on the office shelf. This discussion based workshop will walk you through the mental exercise of planning your future agricultural adventures. Participants will leave with a better understanding of the use of a business plan, the essential components, and a "to-do" list of things to think about to inform future planning efforts. Additional opportunities for one-on-one follow up will also be offered. FSA Borrower credits may be made available for your attendance. This workshop will be taught by Katelyn Walley-Stoll, Team Leader and Farm Business Management Specialist from the Southwest New York Dairy, Livestock, and Field Crops Program with Cornell Cooperative Extension. She is a graduate of Cornell University with a degree in Animal Science and Ag Business Management, and owns and operates a diversified livestock farm.
$5 per person REGISTER


Upcoming Events
Farm Asset Protection Strategies: Safeguarding Agricultural Legacies for Future Generations
November 14, 2023
November 17, 2023
November 20 - November 21, 2023November 29 - December 1, 2023
Join us for a workshop on farm asset protection to help you preserve long-standing agricultural legacies. In these uncertain times, safeguarding valuable farm assets has become paramount to ensure our farming communities' continued success and sustainability. Each participant will receive written materials and a flash drive containing various resources. Morning refreshments and lunch are included.
Value-Added Dairy Tour
March 13 - March 14, 2024
Pre-register now for our March 2024 Value-Added Dairy Tour!
Announcements
Help Us Help You - SWNYDLFC Needs Assessment
As we look ahead to the new year, we would like to survey the community and learn more about the topics you're most interested in hearing from us about.
TAKE SHORT SURVEY