Young Farmer's Coalition Board of Director Elections and Potluck
---
Event Details
Date
October 23, 2022
Time
5:00pm - 7:30pm
Location
Grange Hall, Corfu, NY
73 Allegheny Road
Corfu, NY 14036
Host
Southwest New York Dairy, Livestock and Field Crops Program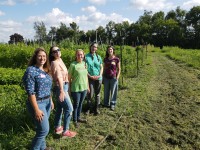 Autumnal Greetings to all,
We are writing to share the details of our first official chapter meeting on Sunday, October 23 at Grange Hall in Corfu. The event will run from 5 to 7:30 pm at 73 Allegheny Road, Corfu, NY 14036. Mark your calendars and read on for important details!
This season we have been coming together to discuss what this group can achieve, including hosting farmer social gatherings, exchanging knowledge skills and resources, and working cooperatively from bulk purchasing to marketing. Now is the time to nominate board members to turn those ideas into reality!
We are hoping to attract a diverse group of farmers, those who work on farms, and agricultural service providers to serve on the board. Although we are hoping to attract predominantly young farmers, some positions listed are open to all who are passionate about these opportunities with the exception of the "Board Member" position which is reserved specifically for a young farmer.
The Mission:
To formalize the WNY farm community with the mission of farmers supporting farmers.
Why become a board member?
To share your knowledge, experience and expertise in the service of your fellow farmers. To work with great people who share your passion for agriculture and our local food economy. To make a lasting impact in the farming community in WNY.
What is the time commitment?
In a given month, you can expect:
Monthly Board Meetings - 1.5 hours
Monthly Events (April-October) - 4 hours
Other projects/emails/communications - 2 hours
Total monthly commitment: 7.5 hours
Are you still interested? We hope so! The attached document details descriptions of each board position.
If one of these roles sounds appealing to you, please reply to this email with your name and a brief biography you'd like to share with the group. We will be sending out another email in coming weeks with the bios of all who have been nominated for board offices. We will also be opening the floor to nominees on 10/23, and all nominees will be encouraged to stand up and share what they can offer to this organization.
Look out for another email soon detailing the meeting's agenda and to get to know those who have been nominated thus far!
*Please note: we are hoping for a volunteer to help at the event. If you are not interested in running for a position but want to lend a hand, please send us an email.
Many thanks to all those who have joined us this season!
Best,
Amy, Bari, Laura, Kelly and Emma


Upcoming Events
Organic Farmer-to-Farmer Meetings
April 4, 2023
: NYCO Field Crop Meeting


Geneva, NY

NYCO's field crops meeting has been rescheduled to April 4th, 2023 from 9 am - 1 pm. This meeting is free for all farmers to attend and participants are encouraged to bring a dish to pass for lunch.
How to Value Your Business, Planning for the Future
April 4, 2023
April 11, 2023
April 18, 2023

This three-week workshop series for livestock-based businesses will be held online. It is specifically targeted at existing meat, fiber, small ruminant dairy, or other livestock value-added processing businesses. A team of Cornell Cooperative Extension Educators will provide tools to assess your existing business and to assist in understanding options for business expansion or transfer. The workshop series will also be of benefit to livestock value-added business startups and is of relevance to both owners and employees in management positions.
Business Planning for Beginning Farmers
April 10, 2023
Jamestown, NY
Business plans for farms are often viewed as yet another chore to do and usually result in dusty binders taking up space on the office shelf. This discussion based workshop will walk you through the mental exercise of planning your future agricultural adventures. Participants will leave with a better understanding of the use of a business plan, the essential components, and a "to-do" list of things to think about to inform future planning efforts. Additional opportunities for one-on-one follow up will also be offered. FSA Borrower credits may be made available for your attendance. This workshop will be taught by Katelyn Walley-Stoll, Team Leader and Farm Business Management Specialist from the Southwest New York Dairy, Livestock, and Field Crops Program with Cornell Cooperative Extension. She is a graduate of Cornell University with a degree in Animal Science and Ag Business Management, and owns and operates a diversified livestock farm.
$5 per person REGISTER