Making a Living Farming - Springville, NY August 24th, 4:30pm - 7:30pm
---
Event Details
Date
August 24, 2022
Time
4:30 pm - 6:00pm (formal program) ; 6:00pm - 7:30pm (tomato tasting)
Location
Dirt Rich Farm
12318 Springville Boston Road
Springville, NY
Host

Amy Barkley
716-640-0844
email Amy Barkley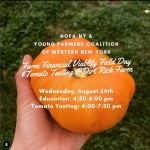 Join the Northeast Organic Farming Association of New York (nofanewyork) and the Young Farmers Coalition of Western New York at @dirtrichcsa (12318 Springville Boston Road, Springville, NY 14141) on August 24th for a two-part event: an educational presentation about making a living in farming at 4:30 pm, followed by a tomato tasting at 6:00 pm. You're welcome to attend just one portion of the event or come for the whole thing! All farmers, not just organic farmers, are invited.
At 4:30, farmers Laura Colligan and Ryan Leggio will talk about the history of Dirt Rich Farm, which Laura started in 2015, and how they grew the farm business to the point where they were finally able to make a living from farming without off-farm jobs by 2021. Dirt Rich Farm is a Certified Organic vegetable farm with 2 acres in production, growing for a 150 member CSA, a farmers market, a farm stand, and sales to local businesses. You'll also hear from USDA NRCS about NRCS programs that support small and beginning farmers and NOFA-NY Certified Organic, LLC about organic certification.
Dirt Rich Farm grows 20 different varieties of tomatoes, so at 6:00 pm, we'll do a tomato tasting to try all the different varieties and choose our favorites as a group. If you're a farmer or gardener, we encourage you to bring some of your top varieties for the group to taste, too! A light meal with Dirt Rich Farm vegetables will also be served. Please bring your own plates, cups, utensils, and something to sit on.
RSVPs aren't required, but are appreciated, as they will help us determine how much to make for dinner. You can RSVP to Amy Barkley at amb544@cornell.edu or 716-640-0844.


Upcoming Events
Is Grazing Sheep Beneath Solar Arrays and Opportunity for Your Future?
September 25, 2023
Mt. Morris, NY
Grazing sheep beneath utility-scale solar arrays can build wealth of present and future sheep farmers as vegetation management service providers and access to additional pasture. The Cornell Cooperative Enterprise Program (CEP) conducted a survey earlier this year completed by over 600 farmers. Farmers identified barriers to grazing sheep under solar arrays and weighed in on need for a producer-led organization to negotiate contracts on their behalf, coordinate logistics of multiple flocks, provide transport of sheep to and from the site, care for sheep while on-site, and provide supplemental mowing. Additional questions focused on processing and marketing needs.
Technology for Grazing Dairies Webinar
September 27, 2023
Join us for this free webinar! Brought to you by the dairy specialists of CCE NWNY and SWNY Dairy, Livestock and Field Crops Programs.
Protecting Against Murphy's Law: A FREE Live Seminar for Veterans.
October 4, 2023
What Can Go Wrong, Will Go Wrong!
Good ole' Murphy's Law is probably the best description of what it's like to be a farmer that there is! Join Cornell Cooperative Extension Farm Business Management Specialist, Katelyn Walley-Stoll, to learn more about the 5 areas of risk on farms and how to develop strategies to manage those risks. Participants will have the opportunity to identify areas of risk on their own farms and brainstorm ways to (try to) prevent the inevitable!
Registration is REQUIRED by visiting https://tinyurl.com/CCERisk or call Kelly at 585-268-7644.
Announcements
No announcements at this time.