IPM / FAMACHA Workshop
---
Event Details
Date
June 10, 2022
Time
5:30pm - 8:30pm
Location
The Shepherd's Place
9887 Wesley Rd
Houghton, NY 14744
Host
Southwest New York Dairy, Livestock and Field Crops Program
Lynn Bliven
585-268-7644
email Lynn Bliven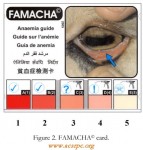 Internal Parasites in Small Ruminants IPM/FAMACHA© Workshop Sponsored by Cornell Cooperative Extension of Allegany County
5:30 to 8:30 pm Friday, June 10, 2022
Hosted by: Mahlon & Miriam Miller The Shepherd's Place 9887 Wesley Rd Houghton, NY 14744
Who is this for?
Sheep producers
Goat producers
Those interested in sustainable internal parasite control and management strategies
What will you learn?
Know your parasites
Know your tools - management practices, prescribed grazing, animal selection
To worm or not to worm
FAMACHA scoring and 5-point checks (health exam)
Space is limited - preregistration is required!
Instruction led by: Amy Barkley, Livestock Specialist, Southwest NY Dairy, Livestock & Field Crop Team and Lynn Bliven, Ag & Natural Resources Issue Leader
Cost: $35 which includes one FAMACHA© card, workshop, handouts and dinner for 1; additional $15 for second individual (workshop and dinner) from same farm/family.
Contact: Lynn Bliven 585-268-7644 ext. 18 or email lao3@cornell.edu
Participants may pay at the door however pre-registration required by June 6, 2022 so we can ensure enough space, food and handouts.
In the interest of biosecurity, please wear clean clothes and shoes to the workshop and plan to change them prior to doing your own farm chores.


Upcoming Events
Farm Asset Protection Strategies: Safeguarding Agricultural Legacies for Future Generations
November 14, 2023
November 17, 2023
November 20 - November 21, 2023November 29 - December 1, 2023
Join us for a workshop on farm asset protection to help you preserve long-standing agricultural legacies. In these uncertain times, safeguarding valuable farm assets has become paramount to ensure our farming communities' continued success and sustainability. Each participant will receive written materials and a flash drive containing various resources. Morning refreshments and lunch are included.
Value-Added Dairy Tour
March 13 - March 14, 2024
Pre-register now for our March 2024 Value-Added Dairy Tour!
Announcements
Help Us Help You - SWNYDLFC Needs Assessment
As we look ahead to the new year, we would like to survey the community and learn more about the topics you're most interested in hearing from us about.
TAKE SHORT SURVEY