Sorry. Online registration has closed.
Profitable Meat Marketing Workshop
---
Event Details
Date
April 6, 2022
Time
6:00pm - 8:30pm
Location
Jamestown Community College, Room 120 Carnahan Building
241 James Ave
Jamestown, NY
Cost
General Registration : $10.00
(addl attendee $10.00 ea.)
Registration is per person
Host
Southwest New York Dairy, Livestock and Field Crops Program
Amy Barkley
716-640-0844
email Amy Barkley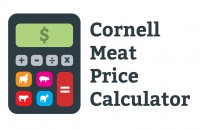 Profitable Meat Marketing Workshop
Wednesday, April 6th, 6:00pm - 8:30pm
Jamestown Community College, Room 120
Carnahan Building, 241 James Avenue, Jamestown, NY
You are raising and selling local meat, but are you making a profit? There are tools that can help with that! Learn about how to figure out your cost of production, and use the NEW Cornell Meat Pricing Calculator to develop prices that deliver a profit in every channel. In this presentation you'll also learn improved marketing techniques to reach target customers and about MeatSuite.com
Speakers:
Katelyn Walley-Stoll, Farm Business Management Specialist, SWNY Dairy, Livestock, and Field Crops Program
Matt LeRoux, Extension Associate, Cornell University

Cost to Register:
$10/per person, which includes dinner. You can register using the red button at the top right of this page.
The registration deadline is April 5th. If you'd prefer to register over the phone, or would prefer to pay in cash or send a check, please contact Amy Barkley at amb544@cornell.edu or (716) 640-0844.
There are 2 other event locations in WNY. The details and contacts for these events are below:
Thursday, April 7, 6:00-8:00 PM, at CCE-Niagara County 4H Training Center
4487 Lake Ave., Lockport, NY
Registration: Call 716-433-8839 or email Amanda at app27@cornell.edu
Contact person: Amanda Henning,
Contact email: app27@cornell.edu
Monday, May 9, 5:00-6:45 PM at Southeast Steuben County Library
300 Nasser Civic Center Plaza Suite 101, Corning, NY 14830
Register at: https://secure.qgiv.com/for/pmm
Or call 607-664-2300
Contact Person: Susan Walker
Contact email: smw272@cornell.edu


Upcoming Events
Is Grazing Sheep Beneath Solar Arrays and Opportunity for Your Future?
September 25, 2023
Mt. Morris, NY
Grazing sheep beneath utility-scale solar arrays can build wealth of present and future sheep farmers as vegetation management service providers and access to additional pasture. The Cornell Cooperative Enterprise Program (CEP) conducted a survey earlier this year completed by over 600 farmers. Farmers identified barriers to grazing sheep under solar arrays and weighed in on need for a producer-led organization to negotiate contracts on their behalf, coordinate logistics of multiple flocks, provide transport of sheep to and from the site, care for sheep while on-site, and provide supplemental mowing. Additional questions focused on processing and marketing needs.
Technology for Grazing Dairies Webinar
September 27, 2023
Join us for this free webinar! Brought to you by the dairy specialists of CCE NWNY and SWNY Dairy, Livestock and Field Crops Programs.
Protecting Against Murphy's Law: A FREE Live Seminar for Veterans.
October 4, 2023
What Can Go Wrong, Will Go Wrong!
Good ole' Murphy's Law is probably the best description of what it's like to be a farmer that there is! Join Cornell Cooperative Extension Farm Business Management Specialist, Katelyn Walley-Stoll, to learn more about the 5 areas of risk on farms and how to develop strategies to manage those risks. Participants will have the opportunity to identify areas of risk on their own farms and brainstorm ways to (try to) prevent the inevitable!
Registration is REQUIRED by visiting https://tinyurl.com/CCERisk or call Kelly at 585-268-7644.
Announcements
No announcements at this time.