Sorry. Online registration has closed.
Profitable Meat Marketing Workshop
---
Event Details
Date
April 6, 2022
Time
6:00pm - 8:30pm
Location
Jamestown Community College, Room 120 Carnahan Building
241 James Ave
Jamestown, NY
Cost
General Registration : $10.00
(addl attendee $10.00 ea.)
Registration is per person
Host
Southwest New York Dairy, Livestock and Field Crops Program
Amy Barkley
716-640-0844
email Amy Barkley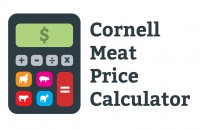 Profitable Meat Marketing Workshop
Wednesday, April 6th, 6:00pm - 8:30pm
Jamestown Community College, Room 120
Carnahan Building, 241 James Avenue, Jamestown, NY
You are raising and selling local meat, but are you making a profit? There are tools that can help with that! Learn about how to figure out your cost of production, and use the NEW Cornell Meat Pricing Calculator to develop prices that deliver a profit in every channel. In this presentation you'll also learn improved marketing techniques to reach target customers and about MeatSuite.com
Speakers:
Katelyn Walley-Stoll, Farm Business Management Specialist, SWNY Dairy, Livestock, and Field Crops Program
Matt LeRoux, Extension Associate, Cornell University

Cost to Register:
$10/per person, which includes dinner. You can register using the red button at the top right of this page.
The registration deadline is April 5th. If you'd prefer to register over the phone, or would prefer to pay in cash or send a check, please contact Amy Barkley at amb544@cornell.edu or (716) 640-0844.
There are 2 other event locations in WNY. The details and contacts for these events are below:
Thursday, April 7, 6:00-8:00 PM, at CCE-Niagara County 4H Training Center
4487 Lake Ave., Lockport, NY
Registration: Call 716-433-8839 or email Amanda at app27@cornell.edu
Contact person: Amanda Henning,
Contact email: app27@cornell.edu
Monday, May 9, 5:00-6:45 PM at Southeast Steuben County Library
300 Nasser Civic Center Plaza Suite 101, Corning, NY 14830
Register at: https://secure.qgiv.com/for/pmm
Or call 607-664-2300
Contact Person: Susan Walker
Contact email: smw272@cornell.edu


Upcoming Events
Organic Farmer-to-Farmer Meetings
April 4, 2023
: NYCO Field Crop Meeting


Geneva, NY

NYCO's field crops meeting has been rescheduled to April 4th, 2023 from 9 am - 1 pm. This meeting is free for all farmers to attend and participants are encouraged to bring a dish to pass for lunch.
How to Value Your Business, Planning for the Future
April 4, 2023
April 11, 2023
April 18, 2023

This three-week workshop series for livestock-based businesses will be held online. It is specifically targeted at existing meat, fiber, small ruminant dairy, or other livestock value-added processing businesses. A team of Cornell Cooperative Extension Educators will provide tools to assess your existing business and to assist in understanding options for business expansion or transfer. The workshop series will also be of benefit to livestock value-added business startups and is of relevance to both owners and employees in management positions.
Business Planning for Beginning Farmers
April 10, 2023
Jamestown, NY
Business plans for farms are often viewed as yet another chore to do and usually result in dusty binders taking up space on the office shelf. This discussion based workshop will walk you through the mental exercise of planning your future agricultural adventures. Participants will leave with a better understanding of the use of a business plan, the essential components, and a "to-do" list of things to think about to inform future planning efforts. Additional opportunities for one-on-one follow up will also be offered. FSA Borrower credits may be made available for your attendance. This workshop will be taught by Katelyn Walley-Stoll, Team Leader and Farm Business Management Specialist from the Southwest New York Dairy, Livestock, and Field Crops Program with Cornell Cooperative Extension. She is a graduate of Cornell University with a degree in Animal Science and Ag Business Management, and owns and operates a diversified livestock farm.
$5 per person REGISTER