CCE Flock Talks Presents: Highly Pathogenic Avian Influenza in New York
---
Event Details
Date
March 7, 2022
Time
7pm - 8pm
Location
Online Webinar - Zoom

Host
Southwest New York Dairy, Livestock and Field Crops Program
Amy Barkley
716-640-0844
email Amy Barkley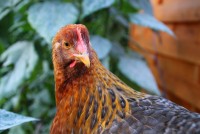 CCE Flock Talks Presents:
Highly Pathogenic Avian Influenza in New York
Monday, March 7, 7pm - 8pm
Join Cornell Cooperative Extension and Dr. Chad Wall, Field Veterinarian for NYS Department of Agriculture and Markets, to learn about the current outbreaks of Highly Pathogenic Avian Influenza, the threat it poses to NYS poultry production, and how we can protect our birds and stop the spread! This event is for Small Production Flocks as well as Backyard/Hobby Flocks.
Topics covered include symptoms of the disease, keeping your poultry safe, and what will happen if the disease is found in your flock or a flock near you. The update will leave ample time for Q&A - bring your questions!
Pre-registration is required at https://tinyurl.com/NYS-HPAI. This meeting will be held over Zoom with a call-in option available. There is no cost for this event.
The Highly Pathogenic Avian Influenza response in NYS is being addressed by Cornell Cooperative Extension's NY Extension Disaster Education Network (NY-EDEN).


Upcoming Events
Farm Asset Protection Strategies: Safeguarding Agricultural Legacies for Future Generations
November 14, 2023
November 17, 2023
November 20 - November 21, 2023November 29 - December 1, 2023
Join us for a workshop on farm asset protection to help you preserve long-standing agricultural legacies. In these uncertain times, safeguarding valuable farm assets has become paramount to ensure our farming communities' continued success and sustainability. Each participant will receive written materials and a flash drive containing various resources. Morning refreshments and lunch are included.
Value-Added Dairy Tour
March 13 - March 14, 2024
Pre-register now for our March 2024 Value-Added Dairy Tour!
Announcements
Help Us Help You - SWNYDLFC Needs Assessment
As we look ahead to the new year, we would like to survey the community and learn more about the topics you're most interested in hearing from us about.
TAKE SHORT SURVEY