CCE Flock Talks: Producing, Processing, and Packing Eggs for Sale
---
Event Details
Date
January 26, 2022
Time
7pm - 8pm
Location
Online Webinar - Zoom

Host
Southwest New York Dairy, Livestock and Field Crops Program
Amy Barkley
716-640-0844
email Amy Barkley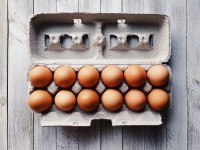 CCE Flock Talks Presents:
Producing, Processing, and Packing Eggs for Sale
Wednesday, January 26th, 7pm - 8pm
Keeping chickens, ducks, quail, and other poultry for egg production is a common practice on many small farms. As we move into longer days, egg production will be ramping up, providing ample opportunities to sell eggs.
Join Lynn Bliven, Ag & Natural Resources Issue Leader with CCE-Allegany and Amy Barkley, Livestock and Beginning Farm Specialist with the SWNY Dairy, Livestock, and Field Crops Program, as they share information on food safety, product quality, and regulations surrounding the production of table eggs from flocks of under 3,000 hens.
Topics will include:
Food Safety in the Coop
Collection, Refrigeration, and Washing
Sorting Eggs for Quality
Candling Demonstration
Regulations for Packing and Labeling
Maintaining Food Safety Through Sale
This free class is sponsored by the Cornell Livestock Program Work Team. Interested? You can register here https://tinyurl.com/SellingEggs or by contacting Amy Barkley at (716) 640-0844 or amb544@cornell.edu. A copy of the recording and notes will be sent to all registrants following the class.
This class is part of the Cornell Cooperative Extension Flock Talk Series, which recurs on the 4th Wednesday of every second month. Interested in getting on our mailing list to hear about upcoming Flock Talks? Sign up here! https://cornell.ca1.qualtrics.com/jfe/form/SV_eYfi5gVCQEKYcEC


Upcoming Events
On-Farm Dairy Processing Online Series 2022
May 25, 2022
June 1, 2022
June 8, 2022

A FREE, virtual three part webinar series for dairy producers interested in diversifying or vertically integrating their business. Our discussion will include market availability and considerations, business planning and goals, interacting with regulatory agencies, planning requirements, and equipment types and layout, audit readiness, compliance training and record keeping.
Profitable Meat Marketing Workshops
May 25, 2022
This webinar covers the approach used for setting meat prices, both for bulk and by-the-cut sales, using the Cornell Meat Price Calculator (MPC). Attendees will learn what data to collect from their farm and how to use the new MPC. The MPC is a user-friendly online tool for farmers that allows them to set prices that ensure they reach farm financial goals. The webinar will be recorded and shared, so that farms using the MPC can play it back when they are ready to use the MPC.
Young Farmers Coalition of WNY Farmer's Potluck
May 28, 2022
Buffalo, NY
All farmers are invited to this networking event where we will share ideas, pool resources, tour a local farm, and enjoy good company.

Announcements
No announcements at this time.