Agricultural Supervisory Leadership Certificate Program - Managing Performance
---
Event Details
Date
November 16, 2021
November 23, 2021
November 30, 2021
December 7, 2021
December 14, 2021
December 21, 2021

Time
3pm-4pm
Location
Zoom

Host
Southwest New York Dairy, Livestock and Field Crops Program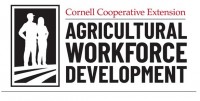 AGRICULTURAL SUPERVISORY LEADERSHIP CERTIFICATE PROGRAM
MANAGING PERFORMANCE
Online course to help people lead and retain employees
Materials will release November 10, 2021 and live weekly Zoom discussions will be held from 3 to 4 pm EDT each Tuesday from November 16 through December 21. Participation in the live sessions is highly encouraged and provides a valued opportunity for peer to peer learning and networking.
Event Summary
Supervisors are critical to the success of farm businesses. They have a major impact both on employees' daily work experiences and on the production performance of the business. The Agricultural Supervisory Leadership certificate helps farm supervisors and managers learn and apply human resource management practices and leadership skills that foster rewarding workplaces and drive business results. Confident managers who thoughtfully apply leadership and management skills improve employee performance, develop teams, reduce employee turnover, and increase employee engagement. The courses within the certificate program will offer extensive practice and engagement activities to build confidence and skill sets.
Managing Performance online course
Understand motivation. Harness the power of performance feedback and coaching. Build clear and effective workplace communications. Set safety expectations. Conduct effective performance improvements.
Pre-registration is required and requested by November 12, 2021


Upcoming Events
NOFA-NY's 2022 Winter Conference
January 18 - January 23, 2022
Growing in Harmony
NOFA-NY's Annual Winter Conference is one of the largest organic food and farming conferences in the nation - gathering hundreds each year to meet old friends, learn new skills, provide support, and celebrate community.
Grazing Sheep on Solar Arrays
January 24, 2022
This online Zoom class will look at the logistics and business of grazing solar arrays with sheep. Shepherds can get paid to graze solar arrays for the purpose of keeping the foliage below the level of the panels. Good grazing principles still apply and there are things to consider like fencing, water, moving animals and the timing of lambing. Join us to learn more about it from experienced grazers, Lewis Fox and Niko Kochendoerfer of Taconic End Sheep, LLC. Lewis and Niko own 400 Katahdin ewes in VT and operate Taconic End Sheep LLC. The flock grazes solar sites in the Northeast between May and October and moves back to VT for the Winter and lambing season.
FREE event
REGISTER
Farm Specific Tax Code Benefits
January 25, 2022
For farm businesses of all shapes and sizes, tune in to learn more about the tax advantages available for farms. This workshop will include information for the current tax season.
Announcements
Register for "Tax Management for Beginning and Small Farm Businesses"
Preregistration is back up and running for next week's CCE Farmer Tax School course: Tax Management for Beginning and Small Farm Businesses - Register now for this informative, $10 workshop!
Register Here!