Sorry, Pre-Registration for has passed.
SWNY Shearing School
---
Event Details
Date
November 6, 2021
Time
9am - 4pm
Location
Alden Fire Department and Sunny Hill Farm
11856 Broadway
Alden, NY 14004
Cost
General Registration : $75.00
(addl attendee $75.00 ea.)
Paying it Forward + General Registration : $112.50
(addl attendee $75.00 ea.)
Paying at this level provides your registration as well as 1/2 of a scholarship for a student in need.
Scholarship : Free
Host
Southwest New York Dairy, Livestock and Field Crops Program
Amy Barkley
716-640-0844
email Amy Barkley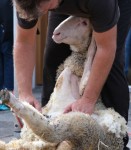 SWNY Shearing School
Saturday, November 6th, 9am - 4pm
You are invited to join Cornell Cooperative Extension and the Kron Family for an intensive one-day training program to learn about wool production through marketing. We will focus on techniques for managing and shearing small-to-mid-sized flocks.
Who is this class for?
Any sheep producer looking to gain knowledge in producing clean, quality wool
Students will learn:
What makes a good fleece - Managing for quality fleece - How wool is marketed - Live shearing and hoof trimming with a retired professional shearer - How to sort and pack raw wool
Speakers:
Kevin and Tammi Kron, Sunny Hill Farm
Dana Havas, Agriculture Team Leader, CCE Cortland
Amy Barkley, Livestock Specialist, SWNY Dairy, Livestock, and Field Crops Program
Classroom training will be held at the Alden Fire Department - 11856 Broadway, Alden, NY 14004
On-farm training will be held at Sunny Hill Farm - 1036 Townline Road, Alden, NY 14004
Class Fees: $75/individual, which includes the course, printed notes, and lunch. Scholarships are available for those experiencing financial hardship. You will see that option on the registration page.
*Pre-registration is required by November 3rd*
The class is limited to the first 20 registrants to ensure a quality on-farm training experience for all
Interested? Register using the red "Register for this Event Now" link in the upper right corner of this page.


Upcoming Events
2022 Soil Health & Climate Resiliency Field Days
July 13, 2022
July 20, 2022
July 25, 2022
July 28, 2022
August 2, 2022
August 4, 2022
August 9, 2022
August 25, 2022
August 31, 2022

Join the New York Soil Health team and partner organizations at a soil health field day! The statewide event series will take place May-August 2022.
More details and registration will be available soon.
Finger Lakes Fiber Festival
September 17 - September 18, 2022
Hemlock, NY
Join us for shopping, classes, lectures, and demonstrations!
Beef x Dairy Workshop - Postponed to Winter time!
April 27, 2022
November 23, 2022

Announcements
No announcements at this time.