Marketing Workshop for Fiber Farmers and Fiber Artists
July 11, 2020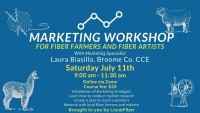 Marketing Workshop for Fiber Farmers and Fiber Artists

The workshop is scheduled for Saturday July 11th, 2020 from 9AM to 11:30 PM online via Zoom and will be led by Laura Biasillo. Laura has been an Agricultural Economic Development Specialist with Cornell Cooperative Extension for over 13 years where she has had diverse responsibilities including providing education in marketing strategies in multiple agricultural contexts.

This workshop will consist of 3-45 minute sessions, with stretch breaks in between. Each session will cover a different topic:

- What is marketing
- Breakdown of marketing strategies & tactics
- How to conduct market research (who/where are my target customers, what are you trying to market, and creating a plan (and budget) to reach customers).


The cost of the workshop is $20.00 per person. All interested are encouraged to register as early as possible. Follow this link to register: https://www.eventbrite.com/e/localfiber-marketing-workshop-tickets-90854071975

Following the workshop, a Facebook group and monthly marketing meetups will be organized so that interested participants can continue to provide encouragement, accountability, and support for each other and to share feedback and stories of our adventures using the marketing skills and strategies we were taught.

This initial workshop, the follow-up meetings, and Facebook group, will provide both a framework for establishing a marketing plan that fits our individual needs and the continued support to overcome challenges on the way to our goals. Additionally, this workshop will enable us to continue to establish valuable relationships with each other as farmers and makers as we learn from each other.