USCIS Gives H-2A Workers Temporary Flexibility to Stay and Work Longer
Alycia Drwencke, Dairy Management Specialist
Southwest New York Dairy, Livestock and Field Crops Program
April 21, 2020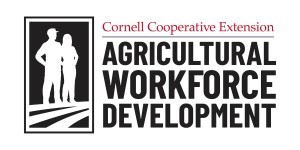 USCIS Gives H-2A Workers Temporary Flexibility to Stay and Work Longer
Notice was published in the Federal register on Monday that gives H-2A workers temporary flexibility to stay and work longer in the United States. A key excerpt from the notice follows:
"Namely, the Department will allow H-2A employers whose extension of stay H-2A petitions are supported by valid temporary labor certifications (TLCs) issued by the Department of Labor to begin work immediately after the extension of stay petition is received by USCIS. The Department is also temporarily amending its regulations to allow H-2A workers to stay in the United States beyond the 3 years maximum allowable period of stay. DHS will apply this temporary final rule to H-2A petitions requesting an extension of stay, and, if applicable, any associated applications for an extension of stay filed by or on behalf of an H-2A worker, if they were received on or after March 1, 2020 and remain pending as of the effective date of this rule, as well as H-2A petitions for an extension of stay, received on or after the effective date of this rule, ending on the last day this rule is in effect."
This will be welcome news for farmers who are scrambling this year to make sure they have enough workers to carry out the season's production. Employers who find they need their H-2A employees longer than originally planned can have their H-2A workers continue to work while awaiting approval from USCIS for an extension request. In addition, allowing H-2A workers to stay beyond usual 3 year individual maximum time, will allow more workers to move from job order to job order without having to return to their home country for a few months. This should make more workers available and eligible for work in the U.S. at a time when they are desperately needed.
H-2A Employers now have housing flexibility to provide for workers, access to expanded emergency job orders, and access to a database of workers already in the country.
Upcoming Events
Is Grazing Sheep Beneath Solar Arrays and Opportunity for Your Future?
September 25, 2023
Mt. Morris, NY
Grazing sheep beneath utility-scale solar arrays can build wealth of present and future sheep farmers as vegetation management service providers and access to additional pasture. The Cornell Cooperative Enterprise Program (CEP) conducted a survey earlier this year completed by over 600 farmers. Farmers identified barriers to grazing sheep under solar arrays and weighed in on need for a producer-led organization to negotiate contracts on their behalf, coordinate logistics of multiple flocks, provide transport of sheep to and from the site, care for sheep while on-site, and provide supplemental mowing. Additional questions focused on processing and marketing needs.
Technology for Grazing Dairies Webinar
September 27, 2023
Join us for this free webinar! Brought to you by the dairy specialists of CCE NWNY and SWNY Dairy, Livestock and Field Crops Programs.
Protecting Against Murphy's Law: A FREE Live Seminar for Veterans.
October 4, 2023
What Can Go Wrong, Will Go Wrong!
Good ole' Murphy's Law is probably the best description of what it's like to be a farmer that there is! Join Cornell Cooperative Extension Farm Business Management Specialist, Katelyn Walley-Stoll, to learn more about the 5 areas of risk on farms and how to develop strategies to manage those risks. Participants will have the opportunity to identify areas of risk on their own farms and brainstorm ways to (try to) prevent the inevitable!
Registration is REQUIRED by visiting https://tinyurl.com/CCERisk or call Kelly at 585-268-7644.
Announcements
No announcements at this time.