Financial Assistance for Farms Facing the COVID-19 Crisis
Katelyn Walley-Stoll, Business Management Specialist and Team Leader
Southwest New York Dairy, Livestock and Field Crops Program
April 3, 2020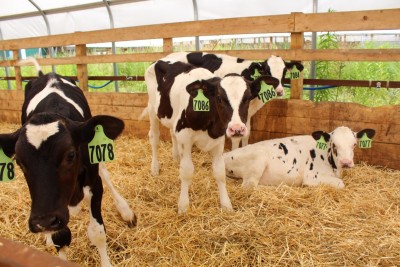 By Katelyn Walley-Stoll, Farm Business Management Specialist
Farm businesses and operations have been deemed essential and will continue to remain in operation producing high-quality, safe food products for consumers all across the world. However, with market disruptions, employees' family obligations, and potentially catastrophic commodity prices, farm profitability uncertainties are an added source of concern. There have been early announcements of assistance that can ease cash flow issues and help farmers keep employees on payroll while maintaining their highest standards of quality, environmental stewardship, and animal wellbeing. Please keep in mind that this is a rapidly changing situation, and we can hope for additional funding announcements in the near future.
American Farmland Trust, a national organization dedicated to keeping our rural lands in agricultural production, has announced their "Farmer Relief Fund" initiative. This program will offer direct-market producers cash grants of $1,000 each to help ease the effect of market disruptions caused by the coronavirus. This can include the closure of farmers markets, decreased or interrupted sales to restaurants and institutional buyers, or to makers who use farm products as inputs. The deadline to apply is April 23rd with grants awarded by May 1st. For more information, visit farmland.org/farmer-relief-fund.
Farm Service Agency (FSA) has made changes to their farm loan, disaster, conservation, and safety net programs to make it easier for customers to conduct business. While their county service centers are closed to the public, their staff are available to continue to work with the farming community by phone appointment. FSA has relaxed the loan-making process by extending the deadline for applicants to complete farm loan applications and preparing Direct Loans documents even if record searches cannot be completed because of closed government offices. FSA will continue to offer farm loans, commodity loans, farm storage facility loans, disaster assistance programs, safety net programs, conservation programs, and acreage reports with modifications meant to benefit the farmer and this situation's unique challenges. For more information, contact your local service center or visit fsa.usda.gov.
The CARES Act's recent Paycheck Protection Loan Program announcement will also provide emergency funding to farms via Small Business Administration loans. This low interest, forgivable loan program will be available starting April 3rd to cover payroll costs, utilities, mortgage interest, and/or rent. Farm owners should work with their existing lenders, if they are participating in the PPL program, to determine their eligibility and complete the expedited application. For more information on this program, visit sba.gov. Please note that this is a very recent development that continues to be solidified. Elizabeth Higgins, Ag Business Management Specialist with Cornell Cooperative Extension's Eastern NY Horticulture Team, recently wrote a summary of this program that is available by visiting https://swnydlfc.cce.cornell.edu/submission.php?id=964&crumb=business|9.
This situation can bring a lot of stress and anxiety for farm owners and managers. It is important to remember that managing and addressing risks early on, rather than avoiding them, will provide decision makers more time to make sound action plans to manage cash flow and long term profitability. The only way to make accurate decisions is to know the farm's current financial situation which will involve record-keeping and business analysis. For more information on creating financial statements for your farm, contact your lender or Katelyn Walley-Stoll, Farm Business Management Specialist. Additionally, NY FarmNet recently released a helpful guide to "Managing Financial Stress on the Farm in Uncertain Times" and their consultants are available for free and confidential financial and personal counselling. For more information, call 1-800-547-3276 or visit nyfarmnet.org.
For more information about any of these programs, updated lists of resources, assistance with your farm's financial plans, or for access to materials without having a reliable internet connect, contact Katelyn Walley-Stoll, Farm Business Management Specialist, at 716-640-0522 or kaw249@cornell.edu
Cornell Cooperative Extension's Southwest New York Dairy, Livestock, and Field Crops Program specialists are here to help provide research-based resources and support during this challenging time. Their team of four specialists include Katelyn Walley-Stoll, Farm Business Management (716-640-0522 or kaw249@cornell.edu); Joshua Putman, Field Crops (716-490-5572 or jap472@cornell.edu); Alycia Drwencke, Dairy Management (517-416-0386 or amd453@cornell.edu); and Amy Barkley, Livestock Management (716-640-0844 or amb544@cornell.edu). While specialists are working remotely at this time, they are still offering consultations via phone, text, email, videoconferencing, and mail. They are also providing weekly updates with timely resources and connections via email and hardcopy and virtual programming. To be added to their notification list, or for more information, contact Katelyn Walley-Stoll, Team Leader, at 716-640-0522, kaw249@cornell.edu or visit their website swnydlfc.cornell.edu.
Upcoming Events
Is Grazing Sheep Beneath Solar Arrays and Opportunity for Your Future?
September 25, 2023
Mt. Morris, NY
Grazing sheep beneath utility-scale solar arrays can build wealth of present and future sheep farmers as vegetation management service providers and access to additional pasture. The Cornell Cooperative Enterprise Program (CEP) conducted a survey earlier this year completed by over 600 farmers. Farmers identified barriers to grazing sheep under solar arrays and weighed in on need for a producer-led organization to negotiate contracts on their behalf, coordinate logistics of multiple flocks, provide transport of sheep to and from the site, care for sheep while on-site, and provide supplemental mowing. Additional questions focused on processing and marketing needs.
Technology for Grazing Dairies Webinar
September 27, 2023
Join us for this free webinar! Brought to you by the dairy specialists of CCE NWNY and SWNY Dairy, Livestock and Field Crops Programs.
Protecting Against Murphy's Law: A FREE Live Seminar for Veterans.
October 4, 2023
What Can Go Wrong, Will Go Wrong!
Good ole' Murphy's Law is probably the best description of what it's like to be a farmer that there is! Join Cornell Cooperative Extension Farm Business Management Specialist, Katelyn Walley-Stoll, to learn more about the 5 areas of risk on farms and how to develop strategies to manage those risks. Participants will have the opportunity to identify areas of risk on their own farms and brainstorm ways to (try to) prevent the inevitable!
Registration is REQUIRED by visiting https://tinyurl.com/CCERisk or call Kelly at 585-268-7644.
Announcements
No announcements at this time.