Commercial Sheep and Goat Producer Discussion Group Invites New Members
Amy Barkley, Livestock Specialist
Southwest New York Dairy, Livestock and Field Crops Program
March 7, 2023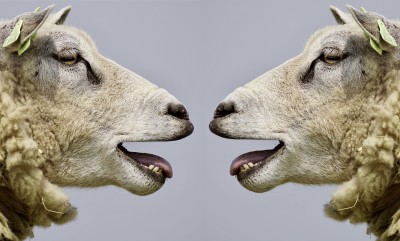 This discussion group was formed to connect sheep and goat farmers, extension staff, researchers, and service providers to share experiences and information on sheep and goat management. Topics of discussion rotate through commercial production of all types including goat and sheep dairies, solar array grazers, traditional meat and fiber operations and grass-fed farms. This discussion group meets virtually via ZOOM at 7:30 pm on the third Thursday of every month. To receive notifications of upcoming meetings, please reach out to Amy Barkley to sign up!
A list of past webinars and their recordings can be found below:
Please note - THE most recent 10 presentations are on the YouTube PLAY LIST "Commercial Sheep & Goat Discussion Group" at https://www.youtube.com/playli...
1/19/23 - Managing hoof care and eradicating hoof diseases - Fiona Harrar, Livestock Manager for the Premiere Experimental Farm whose 1000 ewe and 70 doe flock is used to test out Premiere1 products. 1:12 hr. recording at https://youtu.be/ugH_P4XZ00Y
4/28/22 - Nutrition Part 3: Trouble shooting your feed ration - coping with issues that show up in your forage analysis (with an emphasis on goat and sheep dairies) - Dr. tatiana Stanton, Cornell Goat & Sheep Extension Specialist. 1 hr. recording at https://youtu.be/0QRRkk9FjVA
3/17/22 - Nutrition Part 2: Ration balancing: Matching concentrates to forages - Dr. Niko Kochendoerfer, Cornell Sheep & Goat Program. 1 hr. recording at https://youtu.be/mwQOdEs8EIk
2/17/22 - Nutrition Part 1: Creating a Winter-Feeding Plan for your Small Ruminants - Rich Toebe, Cornell Coop. Ext. Delaware Cty, NY. 1:02 hr. recording at https://youtu.be/Deh6i9kAWBM
1/20/22- Pasture Agronomy: Frost & Trample Seeding - Bill Fosher, Edgefield Farm 1 hr. recording at https://youtu.be/0_XTHoZKdNc
12/16/21 - Helping Lambing & Kidding Run Smoothly - Melanie Barkley, Penn State Coop. Ext. 57 min. recording at https://youtu.be/K7LouW5-y9o
11/18/21 - Introduction to Cache Valley Fever: what to expect if your flock/herd has been exposed, are there ways to confirm it or any feasible preventions for future years? Dr. Mary Smith DVM, Cornell Veterinary Ambulatory Service, 47 min. recording at https://youtu.be/N24PGeW7G_c
10/21/21 - Retrofitting former dairy barn facilities to an expanding sheep or goat flock: Our 3 year experience trying to do it effectively in terms of price and labor with the goal of effectively managing animal flow during lambing. - Dr. Niko Kochendoerfer and Lewis Fox 51 min. recording at https://youtu.be/IgP58GBaWHk
6/17/21 - When and how to market lambs and slaughter kids, Betsy Hodge, Cornell Coop. Ext Livestock Educator for St. Lawrence County, NY discusses a situation where a farmer must decide whether to meet a market request for 4 lambs per week year-round by buying weaned feeder lambs to raise OR by lambing his own ewes year-round. Rhonda Butler and David Brummer from Asgaard Goat Dairy discuss the pros and cons of raising male kids on a commercial dairy to slaughter size and marketing them directly to consumers versus marketing them as feeder kids for someone else to raise. 51 min. recording at https://youtu.be/a0Dga5yhBHA
5/20/21 - How we make culling and keeping decisions for our grass-fed Katahdin flock enrolled on the National Sheep Improvement Program - Isabel and Etienne Richards, Gibraltar Farm. Bacillus thuringiensis crystal protein 5B: promising studies at Virginia Tech and Univ. of Rhode Island on its effectiveness as a barber pole dewormer for sheep - Dr. tatiana Stanton. 58 min. recording at https://youtu.be/dKv55hMZdnw
1/21/21- Challenges, opportunities and management of grass-fed production of feeder lambs on leased land - Bill Fosher, Edgefield Farm. Recording at https://drive.google.com/file/d/1cC4sJvcr3rRnIJjDeaSwK43cHgjf6Rea/view?usp=sharing
Upcoming Events
Is Grazing Sheep Beneath Solar Arrays and Opportunity for Your Future?
September 25, 2023
Mt. Morris, NY
Grazing sheep beneath utility-scale solar arrays can build wealth of present and future sheep farmers as vegetation management service providers and access to additional pasture. The Cornell Cooperative Enterprise Program (CEP) conducted a survey earlier this year completed by over 600 farmers. Farmers identified barriers to grazing sheep under solar arrays and weighed in on need for a producer-led organization to negotiate contracts on their behalf, coordinate logistics of multiple flocks, provide transport of sheep to and from the site, care for sheep while on-site, and provide supplemental mowing. Additional questions focused on processing and marketing needs.
Technology for Grazing Dairies Webinar
September 27, 2023
Join us for this free webinar! Brought to you by the dairy specialists of CCE NWNY and SWNY Dairy, Livestock and Field Crops Programs.
Protecting Against Murphy's Law: A FREE Live Seminar for Veterans.
October 4, 2023
What Can Go Wrong, Will Go Wrong!
Good ole' Murphy's Law is probably the best description of what it's like to be a farmer that there is! Join Cornell Cooperative Extension Farm Business Management Specialist, Katelyn Walley-Stoll, to learn more about the 5 areas of risk on farms and how to develop strategies to manage those risks. Participants will have the opportunity to identify areas of risk on their own farms and brainstorm ways to (try to) prevent the inevitable!
Registration is REQUIRED by visiting https://tinyurl.com/CCERisk or call Kelly at 585-268-7644.
Announcements
No announcements at this time.