Livestock Conservancy Microgrants Now Accepting Applications
July 26, 2022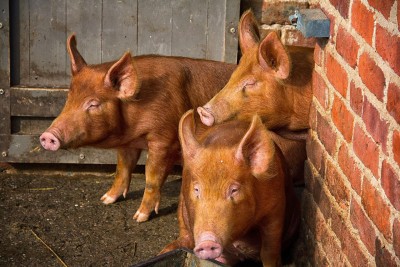 The Livestock Conservancy Microgrants Program continues to put funding into the hands of its most important conservation partners - those stewarding genetic treasures for the security of tomorrow's food and fiber systems. The Livestock Conservancy awards more than $22,000 annually in $500 to $2,000 microgrants to farmers, ranchers, shepherds and breed organizations keeping endangered breeds of livestock and poultry from going extinct across the country.
"Small financial awards can make a big difference for heritage breeders," said Dr. Alison Martin, Livestock Conservancy executive director. "These strategic investments are selected by a panel of judges as excellent examples of livestock conservation in action across the United States."
Grant applications may be submitted for one of four categories:
National Microgrants: Residents and organizations of the United States working with livestock and poultry breeds listed on the Conservation Priority List. Support will be provided through this competitive program for a variety of farm-related operations, including, but not limited to, livestock, poultry, processing, milk, meat and egg production and sales, agritourism, wool milling, promotions and marketing.
Youth Microgrants: This U.S.-based program provides funding for youth projects for individuals 8 to 18 years of age who are actively working with breeds listed on the Conservation Priority List.
Premier 1 Microgrant: This program provides funding for residents and organizations of the United States working with livestock and poultry breeds listed on The Livestock Conservancy's Conservation Priority List. Support will include fencing products available through Premier 1 Supplies and other project related needs.
Breed Association Microgrants: This program is open to U.S.-based associations and clubs working with breeds listed on The Livestock Conservancy's Conservation Priority List. Funds are intended to help associations and clubs improve services for their membership and conservation of their breeds. Applicant organizations must be in existence for a minimum of three years, meet their state's requirements for operating as a business or corporation, be incorporated (no Sole Proprietors or Partnerships), and have board approval to pursue the project. Suitable expenditures of Breed Association Microgrants include, but are not limited to, marketing materials, website improvements, gene banking, software, educational events, developing strategic plans, DNA studies, flock or herd rescues.
Complete applications must be submitted no later than Aug. 19 and include a detailed plan for the use of the grant funds, a clear timeline for achieving proposed goals, a detailed project budget for matching funds or other resources, how the project will impact the breed and other producers, and how you will evaluate the success of your project. Applications should also include two letters of recommendation from a professional relationship or educator. If the applicant is under the age of 18, a letter of support from a parent or guardian is also required.
More information can be found at https://livestockconservancy.o...
Upcoming Events
Is Grazing Sheep Beneath Solar Arrays and Opportunity for Your Future?
September 25, 2023
Mt. Morris, NY
Grazing sheep beneath utility-scale solar arrays can build wealth of present and future sheep farmers as vegetation management service providers and access to additional pasture. The Cornell Cooperative Enterprise Program (CEP) conducted a survey earlier this year completed by over 600 farmers. Farmers identified barriers to grazing sheep under solar arrays and weighed in on need for a producer-led organization to negotiate contracts on their behalf, coordinate logistics of multiple flocks, provide transport of sheep to and from the site, care for sheep while on-site, and provide supplemental mowing. Additional questions focused on processing and marketing needs.
Technology for Grazing Dairies Webinar
September 27, 2023
Join us for this free webinar! Brought to you by the dairy specialists of CCE NWNY and SWNY Dairy, Livestock and Field Crops Programs.
Protecting Against Murphy's Law: A FREE Live Seminar for Veterans.
October 4, 2023
What Can Go Wrong, Will Go Wrong!
Good ole' Murphy's Law is probably the best description of what it's like to be a farmer that there is! Join Cornell Cooperative Extension Farm Business Management Specialist, Katelyn Walley-Stoll, to learn more about the 5 areas of risk on farms and how to develop strategies to manage those risks. Participants will have the opportunity to identify areas of risk on their own farms and brainstorm ways to (try to) prevent the inevitable!
Registration is REQUIRED by visiting https://tinyurl.com/CCERisk or call Kelly at 585-268-7644.
Announcements
No announcements at this time.