Swine Owner Survey on Transboundary Animal Disease Prevention
Amy Barkley, Livestock Specialist
Southwest New York Dairy, Livestock and Field Crops Program
May 6, 2022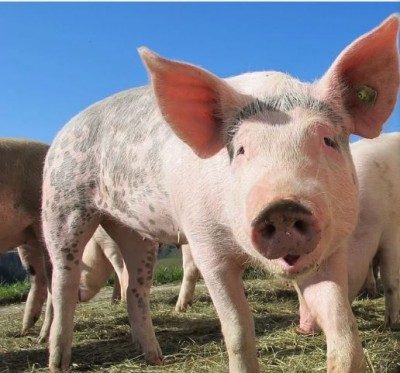 The University of Vermont is inviting livestock farmers to a national-level survey on transboundary animal disease prevention, to gather behavioral attitudes that drive the adoption of biosecurity at the farm level.
The livestock industry is vulnerable to threats of an infectious outbreak of diseases, such as the foot-and-mouth disease and the African swine fever. These diseases are of a national and international threat to animal farming and have dire economic consequences. Decision making and human behavior at the farm level are at the heart of disease prevention, management and control.
The survey takes around 15 minutes to complete and to compensate for your time on a successful completion of the survey, you will be entered into a draw for a chance to win a $20 Amazon gift card.
Your participation is important!
Follow this link to the Survey: https://qualtrics.uvm.edu/jfe/form/SV_6ExXkJNwOii9jYG
If you have any questions please contact Richmond Baye:
Richmond Silvanus Baye
PhD Candidate | Research Assistant
SDPEG | CDAE | University of Vermont
Email: richmond.baye@uvm.edu
Phone: 802-310-7434
Upcoming Events
Is Grazing Sheep Beneath Solar Arrays and Opportunity for Your Future?
September 25, 2023
Mt. Morris, NY
Grazing sheep beneath utility-scale solar arrays can build wealth of present and future sheep farmers as vegetation management service providers and access to additional pasture. The Cornell Cooperative Enterprise Program (CEP) conducted a survey earlier this year completed by over 600 farmers. Farmers identified barriers to grazing sheep under solar arrays and weighed in on need for a producer-led organization to negotiate contracts on their behalf, coordinate logistics of multiple flocks, provide transport of sheep to and from the site, care for sheep while on-site, and provide supplemental mowing. Additional questions focused on processing and marketing needs.
Technology for Grazing Dairies Webinar
September 27, 2023
Join us for this free webinar! Brought to you by the dairy specialists of CCE NWNY and SWNY Dairy, Livestock and Field Crops Programs.
Protecting Against Murphy's Law: A FREE Live Seminar for Veterans.
October 4, 2023
What Can Go Wrong, Will Go Wrong!
Good ole' Murphy's Law is probably the best description of what it's like to be a farmer that there is! Join Cornell Cooperative Extension Farm Business Management Specialist, Katelyn Walley-Stoll, to learn more about the 5 areas of risk on farms and how to develop strategies to manage those risks. Participants will have the opportunity to identify areas of risk on their own farms and brainstorm ways to (try to) prevent the inevitable!
Registration is REQUIRED by visiting https://tinyurl.com/CCERisk or call Kelly at 585-268-7644.
Announcements
No announcements at this time.