Calling all Silvopasture Producers! Help us Develop our Northeast Inventory
Amy Barkley, Livestock Specialist
Southwest New York Dairy, Livestock and Field Crops Program
December 8, 2021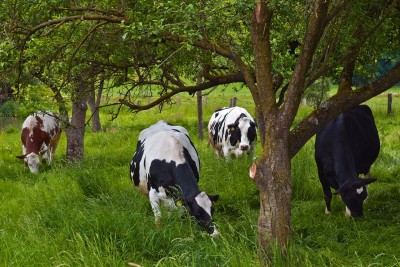 Seeking practitioners of tree and livestock integration for a Northeast inventory
Are you actively integrating trees, livestock, and forages on lands in the Northeast US?
Our team (Regenerative Design Group, Wellspring Forest Farm, and filmmaker Costa Boutsikaris) is seeking to inventory practitioners of any type and scale to develop and provide educational materials for tree and livestock integration (silvopasture) in the northeast region, including the states of CT, MA, ME, NH, NJ, NY, PA, RI, and VT. Funding for the project is through the National Agroforestry Center (NAC) We acknowledge that the word silvopasture is relatively new, and pre-dated by many traditional and indigenous land practices that manage woody plants and vegetation for livestock or animals. We are interested in hearing from any individuals and communities who have experience with tree and animal integration, whether or not they use this term.
As part of the project, we will be developing videos, case studies, and economic models for a land practice that can increase the health of livestock, sequester carbon, and improve on-farm resilience in a changing climate.
To participate, please complete a brief questionnaire with some basic information. We will not share any contact information publicly, and will only aggregate results in order to share a summary of the scope and potential of tree and livestock integration in the northeast. We will also seek to follow up with willing individuals to participate in the filming and materials development.
Questions can be directed to ashleyb@rdgland.com
Questionnaire Link: https://airtable.com/shrgPs1ajfwKCQXQT
Upcoming Events
On-Farm Dairy Processing Online Series 2022
May 25, 2022
June 1, 2022
June 8, 2022

A FREE, virtual three part webinar series for dairy producers interested in diversifying or vertically integrating their business. Our discussion will include market availability and considerations, business planning and goals, interacting with regulatory agencies, planning requirements, and equipment types and layout, audit readiness, compliance training and record keeping.
Profitable Meat Marketing Workshops
May 25, 2022
This webinar covers the approach used for setting meat prices, both for bulk and by-the-cut sales, using the Cornell Meat Price Calculator (MPC). Attendees will learn what data to collect from their farm and how to use the new MPC. The MPC is a user-friendly online tool for farmers that allows them to set prices that ensure they reach farm financial goals. The webinar will be recorded and shared, so that farms using the MPC can play it back when they are ready to use the MPC.
Young Farmers Coalition of WNY Farmer's Potluck
May 28, 2022
Buffalo, NY
All farmers are invited to this networking event where we will share ideas, pool resources, tour a local farm, and enjoy good company.

Announcements
No announcements at this time.