Benefits of Estrus Synchronization and Artificial Insemination, by Mark Johnson
Amy Barkley, Livestock Specialist
Southwest New York Dairy, Livestock and Field Crops Program
April 27, 2021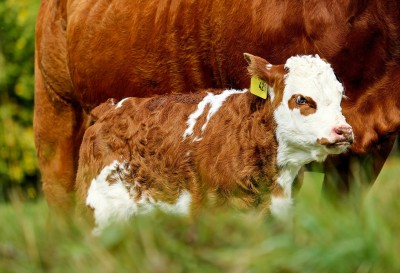 Benefits of Estrus Synchronization and Artificial Insemination in Beef Cattle
Mark Z. Johnson, Oklahoma State University Extension Beef Cattle Breeding Specialist
There are several benefits of estrus synchronization of beef cows. Regardless of when your calving season occurs, manipulating the reproductive process of your cow herd can result in shorter breeding and calving seasons. Accordingly, more calves born earlier in the calving season result in an older, heavier, more uniform calf crop when you wean. Shortened calving seasons permit improvements in herd health and management such as timing of vaccinations and practices that add to calf value with less labor requirements (or at the very least concentrating labor efforts into a shorter time frame). Cows that are closer to the same stage of gestation can also be fed and grouped accordingly which facilitates a higher level of management.
Estrus synchronization can be used for natural mating or breeding by artificial insemination (AI). Synchronization protocols permit us to concentrate the labor needed for heat detection to a few days, and in some cases eliminate the need for heat detection when cows can be bred on a timed basis.
Use of AI permits us to get more cows bred to genetically superior sires for traits of economic importance to our operation's production and marketing goals. Synchronization at the onset of breeding season, results in more cows having heats in the first 18 - 25 days of breeding season. Female's return heats will remain synchronized to a degree, which gives a second chance to AI each female in the early part of breeding season. Without any synchronization, herd managers are faced with a 21 days of continual estrus detection and typically only one opportunity for AI in most females.
Bottomline: estrus synchronization can be an important management tool to get cows settled as early in the breeding season as possible and get cows bred to bulls with highest possible genetic value. A defined breeding season is important to permit meaningful record keeping, timely management and profit potential. Maintaining a 60 to 75 day breeding and calving season can be one of the most important management tools for cow calf producers.
To view Dr. Johnson and Parker Henley's discussion on Replacement Heifers & Breeding Schedules on Sunup TV Cow-Calf Corner from April 24, 2021:
http://sunup.okstate.edu/category/ccc/2021/042421-ccc
To view a recent Rancher's Thursday Lunchtime Series presentation on Synchronization and AI Tools by Dr. Jordan Thomas from University of Missouri https://www.youtube.com/watch?v=PVesshs5__8
Upcoming Events
Is Grazing Sheep Beneath Solar Arrays and Opportunity for Your Future?
September 25, 2023
Mt. Morris, NY
Grazing sheep beneath utility-scale solar arrays can build wealth of present and future sheep farmers as vegetation management service providers and access to additional pasture. The Cornell Cooperative Enterprise Program (CEP) conducted a survey earlier this year completed by over 600 farmers. Farmers identified barriers to grazing sheep under solar arrays and weighed in on need for a producer-led organization to negotiate contracts on their behalf, coordinate logistics of multiple flocks, provide transport of sheep to and from the site, care for sheep while on-site, and provide supplemental mowing. Additional questions focused on processing and marketing needs.
Technology for Grazing Dairies Webinar
September 27, 2023
Join us for this free webinar! Brought to you by the dairy specialists of CCE NWNY and SWNY Dairy, Livestock and Field Crops Programs.
Protecting Against Murphy's Law: A FREE Live Seminar for Veterans.
October 4, 2023
What Can Go Wrong, Will Go Wrong!
Good ole' Murphy's Law is probably the best description of what it's like to be a farmer that there is! Join Cornell Cooperative Extension Farm Business Management Specialist, Katelyn Walley-Stoll, to learn more about the 5 areas of risk on farms and how to develop strategies to manage those risks. Participants will have the opportunity to identify areas of risk on their own farms and brainstorm ways to (try to) prevent the inevitable!
Registration is REQUIRED by visiting https://tinyurl.com/CCERisk or call Kelly at 585-268-7644.
Announcements
No announcements at this time.