Thinking of Using CCE's MeatSuite to Sell Bulk Meats? Here's How to Get Started
Amy Barkley, Livestock Specialist
Southwest New York Dairy, Livestock and Field Crops Program
April 1, 2021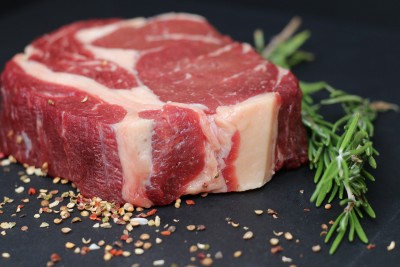 For farmers looking to advertise bulk meats, there are multiple avenues to explore. In addition to word-of-mouth and paper advertisements, using online platforms such Facebook and producer-managed websites can be great ways to connect with potential customers.
Another option for NYS producers is to use Cornell Cooperative Extension's Meatsuite.com. This free platform offers an opportunity to create a farm page, tell your farm's story, and list bulk meat options as well as their prices. If you decide to post on Meat Suite, it is a "one and done" advertising page, with the exception of updating the pricing online by contacting the administrators.
Like other social media platforms, MeatSuite is most successful when all portions of the page are populated, including product availability, pricing, and contact information. Additionally, most farms find they have the greatest success by building a farm page that focuses on the farm's story. This helps customers feel like they have a "stake" in the farm and may lead to greater numbers of contacts.
If you're interested in using the MeatSuite platform, instructions for getting started are below:
Go to the website: www.meatsuite.com.
Go to the "About" tab, and then on the left side of the page, click "How to sign up". Up will come instructions of how to get your profile started on the website. More information on setting up the page is described below, but the items needed to populate the page fully (photo, farm story, prices) will need to be collected in advance.
Once you have all of the information compiled, go to the "Log In" tab, and scroll down to the "My Farm Isn't Listed" line, where you will click the "Signup" button to start entering your information. Alternatively, you can access the direct link here: https://www.meatsuite.com/listings/signup/
If you are unsure of what to price your meats at, here is a link to an online price calculator to help you determine what you should charge to make an acceptable profit: http://calculator.meatsuite.com/.
Here are some further tips form the MeatSuite webpage:
How to Sign up for MeatSuite:
1. Products: MeatSuite.com was developed to increase freezer trade sales of local meat. For this reason, we only list farms that sell whole, half, or quarter animals, or sell "bundles" (offering meat in bulk for one price).
2. Contact Information: Please enter all of your contact information. Be sure to double check your email address and all other contact information for accuracy, as the contact information is public. This is how potential customers and MeatSuite administrators will reach you.
3. Photograph: Have a high-quality photograph ready to upload to your profile page. Each farm is allowed to upload one photograph.
4. Farm Description: This field allows you to describe what makes your farm and products great. Tell the customer how you feed and raise your animals, and what makes your farm unique. The farm description is also an area in which you can tell customers about other products; for example, wool, eggs, and breeding stock. This is the space for you to describe any special attributes such as organic, grass-fed, free-range, etc. Only meat products are listed under the "products" portion of your profile page.
5. Pricing: For beef, bison, pork, goat, and lamb, please list a price that is $/lb HCW (hot carcass weight). This price must include the cost of processing. For rabbit and poultry, list price as $/lb for the whole animal or $/animal. You must list a price for each product! "TBD" or "call for price" is not acceptable. Products without prices will not be listed on your farm profile.
6. Product Description: This area is meant to be simple and concise. Indicate how the product is available (whole, half, quarter, bundle, etc.) for each species. Please indicate the months that each product is typically available, if not year-round. This is not an area to reiterate your farm description.
Sample Pricing: $2.99/lb HCW
Sample Description: Beef by the half and whole. Available August to December. Price includes processing. Meat comes in cryovac plastic.
7. Approval: Once you have entered all of your information, click the "Sign Up" button at the bottom of the page. Once our staff reviews your farm profile it will be approved and appear on the site.
8. Questions, Changes, and Troubleshooting: If you have questions, please contact the MeatSuite administrators at contact@meatsuite.com. After you have submitted your listing, your profile can only be modified by the website administrator. If you need to change something, please contact the administrators at the above email address.
MeatSuite encourages famers to spend a few minutes looking through the diverse farm profiles already listed to get a sense of how to set up their pages.
If you have any questions on MeatSuite or how to use it, contact Livestock and Beginning Farm Specialist, Amy Barkley, at (716) 640-0844 or amb544@cornell.edu.
Upcoming Events
Is Grazing Sheep Beneath Solar Arrays and Opportunity for Your Future?
September 25, 2023
Mt. Morris, NY
Grazing sheep beneath utility-scale solar arrays can build wealth of present and future sheep farmers as vegetation management service providers and access to additional pasture. The Cornell Cooperative Enterprise Program (CEP) conducted a survey earlier this year completed by over 600 farmers. Farmers identified barriers to grazing sheep under solar arrays and weighed in on need for a producer-led organization to negotiate contracts on their behalf, coordinate logistics of multiple flocks, provide transport of sheep to and from the site, care for sheep while on-site, and provide supplemental mowing. Additional questions focused on processing and marketing needs.
Technology for Grazing Dairies Webinar
September 27, 2023
Join us for this free webinar! Brought to you by the dairy specialists of CCE NWNY and SWNY Dairy, Livestock and Field Crops Programs.
Protecting Against Murphy's Law: A FREE Live Seminar for Veterans.
October 4, 2023
What Can Go Wrong, Will Go Wrong!
Good ole' Murphy's Law is probably the best description of what it's like to be a farmer that there is! Join Cornell Cooperative Extension Farm Business Management Specialist, Katelyn Walley-Stoll, to learn more about the 5 areas of risk on farms and how to develop strategies to manage those risks. Participants will have the opportunity to identify areas of risk on their own farms and brainstorm ways to (try to) prevent the inevitable!
Registration is REQUIRED by visiting https://tinyurl.com/CCERisk or call Kelly at 585-268-7644.
Announcements
No announcements at this time.